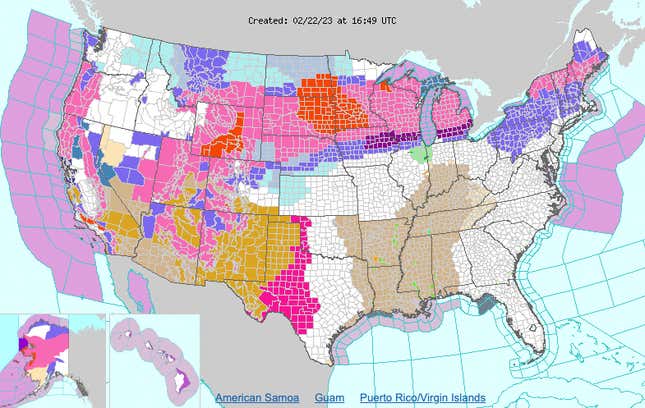 It's a weird weather week nationwide. Amid widespread, below-average cold temperatures across the western and northern U.S., parts of Los Angeles and Ventura counties are under a blizzard warning from Friday morning through Saturday afternoon—and it may be their first such warning in history. Southern California's mountain ranges are expected to get pummeled by heavy snow and high winds beginning today and lasting through the weekend.

Initially, the National Weather Service's Los Angeles office noted that the blizzard warning isn't necessarily the first ever for the San Gabriel Mountains that border the LA metro area, but simply that the first since a code change in 2006. But "after review[ing] more records," the forecasting agency later clarified that this is, in fact, the first blizzard warning issued in LA County that NWS is aware of in its history.
One weather forecaster expressed her surprise over the weather map in a live local news broadcast. "I have to be totally honest with you guys, I've actually never seen a blizzard warning," she said, noting that she's been working as a meteorologist in the area "for almost 14 years now."
G/O Media may get a commission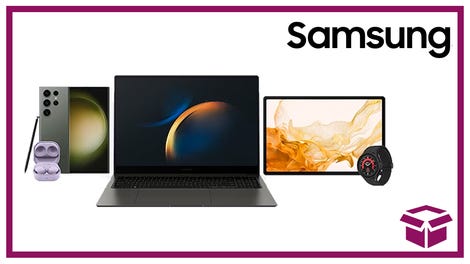 24 hour deals
Discover Samsung - Daily Deal
Southern California's highest elevations, above 6,000 feet, are forecast to receive up to 7 feet of snow over just a few days. Meteorologists expect lower elevations to get less snow, up to 3 feet. But parts of the San Gabriels and other nearby mountain ranges between 1,000 and 2,000 feet above sea level are still set to get a few inches—a rarity in its own right.
On the other side of the mountains, the state's central valleys are expected to receive unusually cold weather, more high winds, and inches of snow as well.
As of writing, snow is even falling in the Anza-Borrego desert inland of San Diego, below 1,000 feet elevation. And the freak forecast expands far beyond Southern California.
A massive area of the country, from Maine to coastal Oregon and parts of New Mexico, is under a winter storm warning. Southern California, parts of Colorado, North and South Dakota, Wisconsin, and Michigan are under blizzard warnings. Winter weather and high wind warnings and advisories are also widespread, according to the most recent NWS forecast map.

Thanks to a mass of Arctic air moving south from Canada, much of the western and far northern U.S. will be significantly colder than average throughout the week, according to NWS's Wednesday morning short range forecast. Heavy snow is expected across the Plains states and into the Upper Midwest and Great Lakes region. Smaller snowstorms are forecast for the Northeast.
High winds started up and snow began falling in multiple areas overnight and early this morning, shutting down flights and making roads dangerously slick across the country. NWS noted that the weather will cause "difficult to impossible travel across wide swaths of the U.S.."
Meanwhile, across an invisible diagonal divide, the Southeast, Mid-Atlantic, lower Midwest, and southern Central U.S. are set to endure possible record-breaking heat today through the end of the week. "These highs on Thursday will be particularly anomalous for the Ohio Valley and Mid-Atlantic, where temperatures 40+ degrees above average will feel more like June than February," NWS forecasters wrote. Thunderstorms and intense rain are expected to accompany the high temps in some areas.
This ongoing week of odd weather can't be attributed to climate change at this time. But scientists have determined that human-caused climate change intensifies every instance of extreme heat, worsens the frequency and severity of storms, and may contribute to more frequent episodes of extreme cold as it weakens the standard polar vortex air currents.