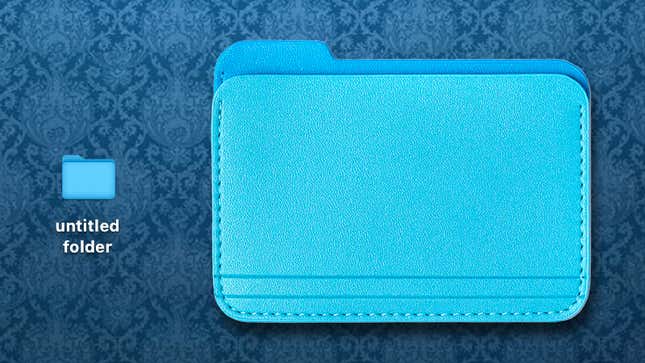 If you're using a Mac, take a quick peek at your desktop. It's probably filled with lots of confusingly labelled folders full of random files as a result of a half-hearted attempt to organize your digital life. You can now add one more unlabelled blue folder to the chaos, except this one slips into your pocket.
Assuming you haven't already migrated everything in your pockets—from credit cards, to photo IDs, to cash, to even your car keys—to your smartphone or other mobile device, then Nikolas Bentel, a New York-based artist and designer, has created a fun IRL homage to the one thing preventing your Apple computer from descending into complete digital chaos—although you can't haphazardly name this folder icon wallet to remind you of what's inside it.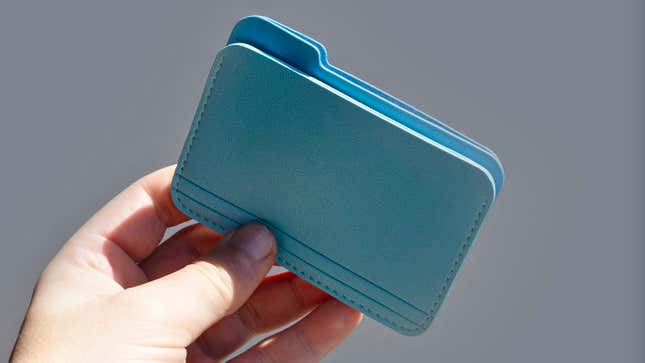 The appropriately-named Untitled Folder Wallet is large enough to accommodate a standard-sized credit or photo ID card, and actually features a design with three separate pockets that each have enough room to hold up to four plastic cards, or an assortment of small receipts, business cards, and paper currency.
It's made from vegan leather, so you don't have to worry about an animal losing its life over a sight gag, with a duotone finish that helps recreate the three-dimensional appearance of the actual macOS icon, plus matching stitching. You can't delete it, but you can lose it, so maybe one day we'll see a version with an exterior pouch to accommodate an AirTag. The odds of that happening are slim, however, as Bentel plans to only make 500 of these available through their website. If you want one, you'll have to cough up $49, and enough patience to wait five to six weeks for it to be actually manufactured and delivered.

---
Want more of Gizmodo's consumer electronics picks? Check out our guides to the best phones, best laptops, best cameras, best televisions, best printers, and best tablets. And if you want to learn about the next big thing, see our guide to everything we know about the iPhone 15.