If you haven't been paying attention for the last 81 years of Western cultural history, New York's Solomon R. Guggenheim Museum is one of the biggest, most popular, and respected art museums in the world. It also recently happened to decline a request from Donald Trump to loan Vincent Van Gogh's 1888 painting Landscape With Snow to hang in "the personal living quarters of the president and Melania Trump," per the Huffington Post, and instead offered to lend them a solid gold toilet.

The 18-karat, functioning golden toilet in question is a 2016 sculpture by "Italian art prankster Maurizio Cattelan" titled America, and details of the museum's letter offering the crapper as a "long-term loan" in lieu of Van Gogh's work appeared in the Washington Post last week. As art critic Philip Kennicott later wrote in the paper, the clear subtext was "We assume you only want the van Gogh painting as a status symbol, which we refuse to endorse; but we will give you what you really crave, which is crass gold."
So of course supporters of our big boy president decided that they would fight back by bombing the Guggenheim with one-star reviews on Facebook and Yelp over the past week.
The Guggenheim now sits at 2.4 out of five stars on Facebook with some 31,000 one-star reviews. Its reviews on Yelp are hovering around 3.5. The Yelp account now warns that "This business is being monitored by Yelp's Support team for content related to media reports." Per the Huffington Post, it appears that the company's support team removed numerous reviews, but several gems remain:
G/O Media may get a commission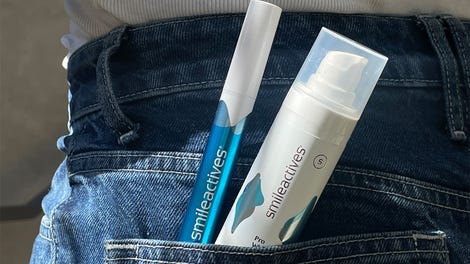 58% off
Whitening Powerhouse Pen & Gel Duo
"Only one star for its treatment of the President," one Yelp review read. "This was truly classless especially for an art museum. In my next trip to NYC I will definitely be avoiding the Guggenheim."

Another read, "Classless hacks, society is going down the drain..." Yet one more chimed in, "guggenheim museum has disgrace itself by offering a gold toilet to the president of the us , instead of loaning the white house the painting he was looking for , nancy sector needs to go now !!!"
On Facebook, one woman wrote, "How dare you insult the President of The United States......we the people find you disgusting.....and the curator needs to be flushed!"
These folks definitely go to art museums.
While Yelp review campaigns have become a headache-inducing reality in the past few years and can hurt small businesses, this is your reminder that yelling at a treasured, world-famous cultural institution about toilets is unlikely to do anything to prevent people from visiting it. It's like ranting through a megaphone at the Pyramids about Islam or screaming about how the Eiffel Tower is too French while pouring wine into the Seine.
If you really want to start a dumb brand controversy over Trump, go smash a Keurig or something.