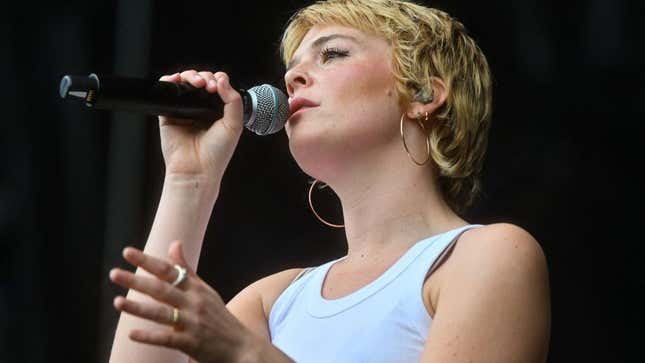 Maggie Rogers announced she's going "old school" ahead of her upcoming tour by bringing ticket sales back to the in-person box office. Tickets went on sale at 10 a.m. today, and Rogers told her fans on her site to "buy an in-person ticket like it's 1965" while expressing her frustration over recent price gouging and glitches on Ticketmaster.
Time to Tackle the Taylor Swift Ticketmaster Turmoil | TechModo
"Fuck bots + fuck fees. come buy a ticket in person. tomorrow only," Rogers wrote on Instagram, and in an accompanying video, she explained her decision to move to in-person sales.
"Over the last few months, there's been a lot of conversation about how intense ticketing fees are and how insane bot activity is, and how tough it is to just get tickets into the hands of fans," Rogers said. "A lot of people, including me, are frustrated and concerned, and I've been thinking about a way to sort of give people another option. So we're going old school." She added, "Seems a little obvious but it's a way to get rid of some of the fees and get tickets directly into your hands."
Rogers' decision comes after Taylor Swift fans were locked out of Ticketmaster while trying to buy tickets to the singer's Eras tour. "It goes without saying that I'm extremely protective of my fans," Swift wrote on Instagram in November. "It's really difficult for me to trust an outside entity with these relationships and loyalties, and excruciating for me to just watch mistakes happen with no recourse."
Don't fret if you can't make it to the ticket booth today, though. Additional tickets will become available on April 11 on Rogers' website; Spotify will open up to pre-sale tickets on April 12; and tickets will open to the general public on April 14.
Complaints arose from other celebrities regarding the Ticketmaster's exorbitant fees making otherwise affordable tickets increasingly expensive. Last month, The Cure demanded Ticketmaster issue refunds to fans for adding on excessively high fees, which the company ultimately agreed to.
Rogers' decision now comes as a means to ensure her fans don't encounter the same issues and frustration. The tickets will be available for one day only at local box offices, and Rogers said there there will be a two-ticket-per-person limit but all prices and tiers will be available, and added, "along with exclusive merch and a special playlist I cooked up just for box office day."
In-person box office sales will vary from city to city, and Rogers says she will make an appearance at the Music Hall of Williamsburg box office in Brooklyn on Friday to greet fans that are buying tickets for her July 27 show in nearby Forest Hills.
Rogers' U.S. summer tour will run from July to August featuring special guests Soccer Mommy and Alvvays.