Could you imagine the world without tigers or African elephants in the wild? These are just two of the many animals that could go extinct in the while within the next hundred years, thanks in part to habitat loss, hunting, fishing, and disease.
1. Tigers – We have lost 97% of wild tigers in just over a century, and there are only 3,200 in the wild today, according to the WWF. They've lost 93% of their historic range in the last 100 years.
2. Amur Leopards – In 1970s, the Russian population had fragmented into three separate ones, and now there is only one remaining population in the Primorye Territory in Russia, along Chinese and North Korean borders with 14-20 adults and 5-6 cubs.
3. Pandas –There are only about 3,000 in the wild.
G/O Media may get a commission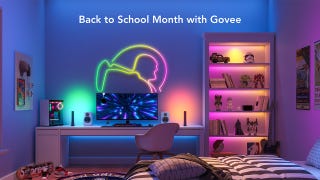 Back to School
Back to School Month with Govee Sale
4. Sumatran Orangutan – 7,300 of them still live in the Sumatran rain forests (a small part of their territory is in Gunung Leuser National Park), but they are critically endangered because palm oil companies are destroying their natural habitat.
5. African elephants – 23,000 of the 700,000 African elephants were killed by poachers only in 2013.
6. The Javan and the Northern white rhinoceros – Only 40 Javan rhinos live in Java, Indonesia, but those are critically endangered because of their horns, which are sold for $30,000 per kg on the black market. The northern square-lipped (or northern white) is even more infrequent: four individuals were transported to a Kenyan wildlife conservancy from a Czech zoo to breed six years ago, but the project wasn't successful. One of that four died in October 2014. There are still two other rhinos in zoos (one in Dvúr Králové, Czech Republic and one in San Diego Zoo's Safari Park in California).
7. The golden-headed (or Cat Ba) langur – The population has been declined by 80% over the last three generations, and now there are only about 70 of them.
8. Red wolf – Only 250 are left (About 100 in the wild, the rest in captive breeding facilities) of this once widespread canid. The habitat loss and population loss led many individuals to mate with coyotes which also reduced their number.
9. Saiga antelope – this strange nosed antelope was almost completely exterminated in the 1920s, but now it's in a deep trouble again: nearly the half of the Uralic population have been found dead because of pasteurellosis (12,000 of 26,000), and the whole population shrunk with 95% since the late 1990s. Now there are about 50,000 saigas.
10. Irrawaddy dolphin – there are six small populations with 50-150 inviduals each, and 5,832 of them in coastal waters of the Bay of Bengal and in the Sundarbans National Park, Bangladesh. They are in danger because of accidental capture, electrofishing, gold mining and dam building in Burma, the Philippines, Thailand, Laos, Cambodia and Indonesia.
___
Photos: Tiger, by Sumeet Moghe / Amur leopard, by Keven Law / A giant panda cub, by Dominique Bergeron / The Sumatran orangutan, by John Vetterli / African elephants, by Peter Steward / Northern white rhinoceros, by Heather Paul / Cat Ba langur, from Knowledge Is Wonderful / Red wolf, by Dave Pape / Saiga, from Ulytatour / Irrawaddy dolphin, from Fondation Segré.