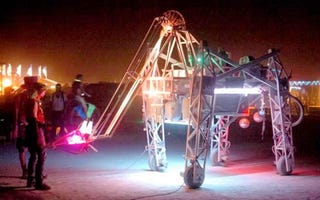 The staff of Make and Craft magazine are calling for anyone who has a do-it-yourself project that might be inspiring or inspirational to audition for the Maker Faire 2007. Check out that example above—hey, what is that, an electric giraffe? Yes, indeed it is. The tryout is this Sunday (February 18), and will be held at the Machine Project in Los Angeles. The winners will be invited to share their accomplishments at Maker Faire 2007, a gathering on May 19-20 at the San Mateo, California Fairgrounds.
We invite proposals for Maker workbench exhibits, workshops, presentations and performances for the Maker Faire. We are interested in proposals from individuals as well as from groups such as hobbyist clubs and schools.
Make and Craft editors Dale Dougherty, Mark Frauenfelder, and Natalie Zee Drieu will be at the audition. Keep in mind, you perverts, that this is a family-friendly event, which last year had 20,000 people attending. Keep it clean.
Maker Faire Auditions [Machine Project, via boing boing]