Few people love playing a role as much as Matt Ryan loves playing Constantine. He played him on the short-lived NBC show Constantine, he showed up as him again in Arrow, and now he's voicing the character in DC's animated movie Justice League Dark.

Justice League Dark director Jay Oliva said that when the movie happened, he asked three questions, "Is Swamp Thing in it?," "Is Constantine in it?," and "Can we get Matt Ryan to do it?"
Speaking to us at New York Comic Con, Ryan basically proved how big a geek he is for Constantine. "He's one of the best literary characters of the 21st century, I think," Ryan told io9. "He's such a great character to play and I thoroughly enjoyed playing him on the TV show and then on Arrow and to get to do him in this medium and this context was a great thing."
He added that he took a trench coat and one of the Constantine's special fancy lighters from the set after the show ended. And that he's still reading the character now. "I think the DNA of the character has kind of remained the same throughout all of the incarnations of him," he told us. "In a way. Obviously the Hellblazer stuff was darker than the New 52 stuff. I haven't read the new Hellblazer, I've actually got the issue but I haven't read it yet."
G/O Media may get a commission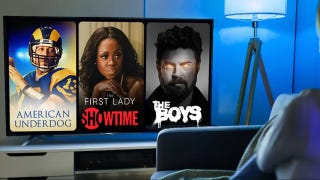 UNDER $1
99¢ Prime Video Channels
The comics provided him a ton of material to fall back on every time he played the character:
I kind of brought my Constantine to the table and then tried to play out what story we were telling, what situations we were in. And then using whatever knowledge I'd obtained from reading the comics and Justice League Dark stuff and implement that into the relationships he has with the different characters whom I hadn't interacted with on the live action show. That was kind of the main challenge.
Ryan also mentioned one big regret: never having a nude scene in the TV show. "It's a shame we never got to do a scene with me naked in the actual show because I would have liked to have had the tattoo of the thing on my ass," said Ryan. He also mentioned that one great moment in Arrow was improvised by him:
He's a great character and for me to play him again as well is fun. When I did Arrow, that moment with the peacock feather—there was this whole bowl of and [I thought] 'What's the peacock feather for? Oh fuck, I'm just going to scratch my back.' And I had no idea what I was doing, really. It was just one of those moments you come up with. And those moments, the character lends itself to make up that stuff which is cool.
As for coming back to play the character in the CW's DC universe, he said:

I don't know. I would love to play him again. It was so great to get to do it in this medium and this context. Since I did Arrow, I've been lucky in this crazy business that I've been working pretty much all the time since then. This is kind of the first time I've had a bit of time to take a break. I just finished shooting something in London, so I've kind of technically free again now. Who knows? If they want me back, I'd be up for it.
Matt Ryan just really loves this character and will happily play him whenever he gets the chance, in whatever medium is available to him.
Justice League Dark is due to release early next year.