In Holbrook, Arizona sits one of the American Southwest's stranger tourist destinations, Stewart's Petrified Wood, a petrified wood emporium/ostrich farm that boasts several creepy animatronic dinosaurs guarding its property. It's like the Prehistoric Forest mixed with The Hills Have Eyes.
Here's the word-for-word sales pitch from Stewart's website:
Buy the most colorful petrified wood in the world! Petrified wood is 225 million years old, from the Triassic Era, when dinosaurs ruled the earth. This beautiful petrified wood is only found in Arizona. Our wood is cut and polished by artisans in our shop located near the Petrified Forest in Holbrook, Arizona. We sell bookends, slabs, stumps and jewelry made from petrified wood. We also sell meteorites, dinasour bones, kachina dolls and petrified wood rock concerts, AND NEW ITEM: OSTRICHES And OSTRICH EGGS!!!!!! Large quantities available, call for prices.
Petrified wood rock concerts? The hell you say! Stewart's dinosaurs are definitely disconcerting, and their intensely low-budget designs make even weirder tourist spots look normal by comparison.
G/O Media may get a commission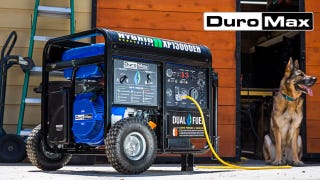 Black Friday Sale
DuroMax Generator Sale
[Via Metafilter. Top image via Vintage Roadside]

And here's a fellow's video of the Wood from 2007.

[Via Vintage Roadside]

[Via RedbeardMathPirate]

[Via RedbeardMathPirate]

[Via RedbeardMathPirate]


[Via ControlFreak451]

[Via RedbeardMathPirate]

[Via ControlFreak451]


[Via Susan Myrland]

[Via ControlFreak451]

[Via Ephemera Obscura]

[Via Susan Myrland]