Your body is covered in tiny fungal ecosystems. No, really, it is. And now, for the first time, scientists have mapped the places where fungus grows the most on your skin.
Fungal richness varies across your body, but the most diverse communities of these microbes live on your feet.
In recent years, scientists have devoted a lot of time to studying the gut microbiome — the microscopic ecosystem of bacteria and other microbes living inside of our intestines. Studies show that your symbiotic gut flora are vital to maintaining good health and actually help protect you from colonization by other microbes that can make you sick.
G/O Media may get a commission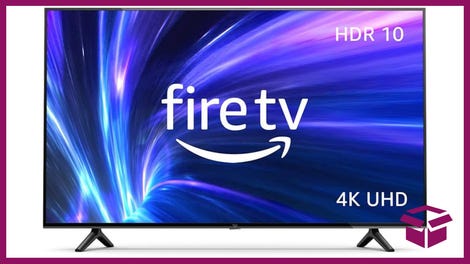 42% Off
Amazon Fire TV 50" 4K Smart TV
Less attention has been given to your skin's microbiome. Past research has characterized the bacteria living on our skin, but the same cannot be said about the fungus among us, despite that some estimates suggest 29 million people in the U.S. have some form of cutaneous (skin) fungal infection, including toenail infections, ringworm and yeast infections. One issue complicating the diagnosis and treatment of fungal infections is that fungi can be slow to culture in the lab, partly due to the difficultly in identifying and replicating the conditions necessary for healthy fungal growth.
So rather than stick to just cultures, researchers with the National Human Genome Research Institute and the National Cancer Institute used DNA sequencing techniques to identify fungi (the same method used previously to look at the bacteria living on our skin). The team began by collecting samples at 14 body sites of 10 healthy adults, who didn't have chronic health conditions, dermatologic diseases or use antimicrobials.
Fluorescent microscopy reveals a human hair (yellow) covered in bacteria (magenta) and fungi (cyan), within the skin. Courtesy of Alex Valm.
"Patients with weakened immune systems or diabetes are at risk for nose, mouth, lung, and skin infections with the fungus Mucor and others," says study co-author Heidi Kong, a dermatologist with the National Cancer Institute. "Based on this knowledge, we suspect that the skin fungal composition will be different in patients with these types of conditions."
The participants were all from the Washington, DC metropolitan region, though Kong suspects that there would only be small differences if the team collected samples from people from different countries. "A future study would be interesting to investigate if this is true," she tells io9.
With DNA sequencing, Kong and her colleagues generated more than 5 million phylogenetic markers, or fragments of DNA, which they used to identify over 80 fungal genera. They also used traditional culturing methods to identify fungi, but this technique only yielded 130 fungal colonies of 18 genera.
The human skin fungal diversity is dominated by Malassezia. Courtesy of Darryl Leja and Julia Feckes.
The results show that our skin is home to two fungal phyla: Ascomycetes and Basidiomycetes. The team discovered that fungal species of the Basidiomycetes genus Malassezia — which is behind dandruff and seborrhoeic dermatitis — rule your skin, dominating at all 11 core-body and arm sites. Malassezia were also present on the three foot locations (toenails, heels and toe webbing), but these sites showed much greater fungal diversity than the rest of the body.
Specifically, the researchers found 80, 60 and 40 types of fungi on the heel, toenail and toe webbing, respectively. By comparison, arm sites only had 18 to 32 fungal genera, while head and trunk sites were home to only two to 10 fungal types.
The fungal communities of the feet also appeared to be unstable over time, the researchers note, suggesting that fungal instability may be behind common diseases such as athlete's foot and toenail infections. So, it may well be the case that our skin fungi normally prevent other harmful microbes from taking root, and certain skin diseases arise from fungal imbalances (similar to what happens with our gut microbiome), though more research is needed to see if our skin fungi really provide any benefit.
Fungi (cyan) and bacteria (magenta) surround a human hair. Courtesy of Alex Valm.
The team also compared the participants' fungal and bacterial diversities, yielding some interesting results. For instance, the arms have low fungal diversity but high bacterial diversity, and the opposite is true for the feet. And while previous research showed that bacterial diversity can be predicted by whether the skin is moist, dry or oily, fungal diversity seems to only depend upon body location. "The differences [in fungal diversity] may be related to skin temperature," Kong says.
Kong and her colleagues are now interested in learning how the fungal communities of people with skin conditions differ from those of healthy people. A better understanding of the fungal and bacterial ecosystems on our skin will help scientists and doctors better deal with skin diseases. Such an understanding would be particularly useful for cancer patients, whose immune systems are often weakened from treatments, potentially allowing infections to pop up on the skin and nails.
"Some of these infections can spread through the body and be dangerous to these patients," Kong says. "If we can better understand how bacteria and fungi on our skin persist or thrive on our skin, then it may be possible to develop ways to promote health."
The work was published in Nature.
Top image: Upper layers of human skin (yellow cells) with bacteria (magenta) and fungi (cyan). Courtesy of Alex Valm.