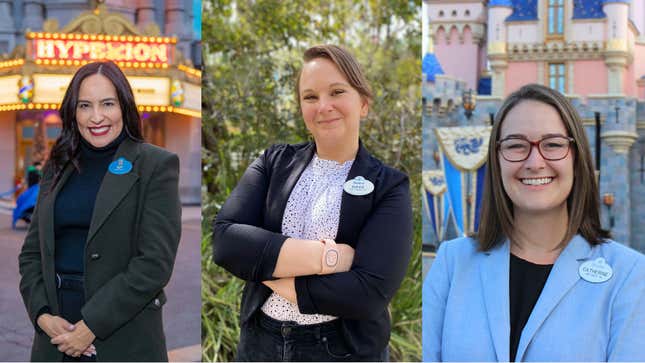 The happy experiences guests have at Disney Parks are the sum of the many moving parts that go into the creation of all the attractions—including new ride Mickey and Minnie's Runaway Railway and nighttime spectaculars like World of Color: One. io9 talked to a trio of Disney employees, all women in STEM, whose work behind the scenes helps make that magic come to life.
What's Your First Fandom? | New York Comic Con 2022
These leaders in STEM (science, technology, engineering, and math) play an important role within Disney Parks, aiming to make every trip as seamless as possible while working on the tech that fuels the pixie dust. Read on for our interviews with Hava Levy, senior product manager, Digital Experience; Catherine McCoy, senior manager, Industrial Engineering; and Kim Oliveras, operations manager of Entertainment, Technical and Show Services.
---
Sabina Graves, io9: I'm so excited to dive into the STEM arm of Disney Parks with you all. Let's start with introductions and a bit of background on how you came into your respective roles.

Catherine McCoy: I've been at the Disneyland Resort for seven years full time. When I was in school, I was starting my studies as a mechanical engineer, and I started to try and figure out, what do I want to do? And Disney Industrial Engineering had a video that talks about what industrial engineers do at Disneyland. I realized, wow, I can merge some technical skills with math and engineering where processes improve. And in this role you're not designing physical assets like you would be as an engineer, creating cars, creating planes, doing chemical things—this is creating processes to make people's days better.
My current role is, I'm a senior manager with our Industrial Engineering team; the whole goal is to be an unbiased third-party group that comes in and helps with the teams, finding operational efficiencies: "How do you get more people on an attraction? How do you get more food to get pumped out in a food and beverage location? Is there technology that can be implemented that helps reduce some of the cost heavy costs associated with some of the operating areas?" So, all things efficiency—where the ultimate goal is creating more magical experiences here at the parks.
Kim Oliveras: I am the operations manager for Entertainment, Technical, and Show Services. I've been with the company 25 years. I grew up in Southern California, and so my visits here [were]—well, not often, because I was raised by a single mom, and we did live on a budget. Coming here wasn't an all the time thing, but it was certainly a treat. My current role is, I lead all of our stage technicians—the cast that you see in blacks that are usually behind the scenes in a theater, sometimes not behind the scenes. What we do is all the aspects of lighting, audio automation, projection, and video. We have some new spectaculars and my team was responsible for designing and installing all of those and then operating them on a daily basis. World of Color is an all-tech show; in fact, there's no performers in it. So that that is the team I lead.
Hava Levy: I'm a senior product manager for the Connected Products team on the digital side. So my team is very invested in a lot of the guest experience as far as entertainment offerings, but then also a lot of functional capabilities. [With my team], the big thing I'm working on right now is MagicBand+, which is a very new offering. It's less than a year old at both sites; it's like six months old at Disneyland Resort. My team is responsible for a lot of the technology that has to do with any Bluetooth being used at the park. It's really interesting because we work on things the guest sees, like on the Disneyland app, but we also do things that are kind of more auto-magical, stuff happening in the background.
We are very interested in seeing what technology we can do with the wearables like MagicBand+ to deliver entertainment, as well as a lot of functional capability. My dad is a super fan, so we kind of did the thing where I had the grandparents in Florida and we went to Disney World. For me it was an early love of Disney that was ingrained in me.
io9: I can list off my favorites from each of your respective fields. Catherine, I'm very happy that park-hopping has shifted to like 11am from the afternoon. Kim, I love the projections during World of Color: One and the "We Don't Talk About Bruno" Small World music projection overlay from last year. And then Hava, I'm also so excited about the Magic Band+ capabilities to do bounty hunting in Batuu. It's so inspiring to know that you all are part of those teams making operations run on a day to day basis. What are some of your favorite projects that have come to life?
Oliveras: Definitely our newest spectaculars [like] World of Color: One. The story on that is so moving and powerful—how it just takes one of us to make a difference. The creative direction on that show is so beautiful, but it is late nights. You're out there every night at rehearsal and some nights you're thinking, "What am I doing? This is crazy. It's two in the morning and it's freezing." But when you get out there on opening day with the guests and the downbeat happens and you hear that rumbling of the crowd and the music for it, it does give you the goosies. And it is one of those really beautiful, amazing things that you look around and think, "I'm part of this, my my team made this happen." There are things that take years, right? Planning and creating, and the end product that the guests see was a labor of love. And there are also small labors of love like the "Bruno" production. That was something that was pretty quick and it was such an amazing guest satisfier. I am thrilled to be a part of things where we can see something go from idea to installation: "Hey, it's a quick idea. What can we do and how can we get something out quickly?" And so those are those are some of my favorite things.

Levy: Our most recent implementation at Disneyland Resort that we finally got to introduce is some gesture recognition for the MagicBand+. Basically that just means that the band kind of understands when a guest makes a movement with the band on. It's been really cool to kind of test and adjust based on behavior we've seen. We also have really exciting plans just for the experiential part of what we can do with it in the future. Right now it's for the Disney100 event that's going on at the Disneyland Resort. So you can go around and kind of play with the decor, which is really fun.
And again, like Kim said, it's really fun to be there after hours, kind of running around in the pitch black and trying to make things work for the next day. It's really cool. My favorite thing was actually when we launched, my parents, who have no idea how to use the app, were able to go off on their own and regain Lightning Lanes and virtual queues without us, only because they had the band to kind of let them do everything without any sort of barrier.
McCoy: I love that you mentioned that some of the things that you don't even see. I feel like that is the thing I'm most proud of. Oftentimes it's not the product launches themselves, but getting an extra 10 guests an hour on It's a Small World, which may seem like nothing to the average person, but maybe that cuts your wait by five minutes. And if we can do that at all attractions, maybe we're saving you an hour from standing in line, or you can take an hour and go enjoy another attraction. That is what I'm really proud of in the industrial space, those really small wins that maybe not everyone notices, but they really add up.
io9: What are your goals in your role and how have role models influenced you as you've come up in the industry? What is important for you to pass on to the next generation of women in STEM?

McCoy: As a female engineer, just naturally I found women engineers tend to be more quiet and they tend to be the ones in the room that aren't speaking up and don't have a voice, and need a little bit of encouragement to find their confidence. I was that person at one point in my career. When I first started I would walk into rooms that were male dominated and I would just kind of be quiet. I didn't have to be a voice in the room with all of these people that had so many years of experience and kind of knew their craft so well. And then as I came back as a leader, I'm in the room with the same people and I have an opinion, I have a voice. I really seek to help other female engineers that are coming into the department find that same footing and not take the years of ramp up to gain confidence that I did.
And that's something making our operation awesome. I found [that] moms that were still working full time that had multiple kids are my leaders now. I can look up and see that I can be everything I want to be as a woman, which to me, motherhood was very important. That that was something I was able to achieve that was accessible to me. I'm currently nine months pregnant, so it's kind of full circle for this to happen. But at one point I did ask a few different mentors, "You know, I really want to be a mom. There's so many moms in this department, I could just stay here, but I really want to go see what else is out there for me." And she said, "Do not limit yourself now for the things you want in the future." That really stuck with me. I would have had more of a closed mindset if it wasn't some of the women in the company that said, "Do not limit yourself, go do what you can now and then you make the decisions for later." So it was pretty impactful to have people not limit me when I was putting some of those self-limiting beliefs in place.
Levy: I think for there just to be space made for the women, especially in fields where we're in the minority, to have space to talk about what we do and get recognized for not only the work we do, but the barriers we've had to overcome to take up the space we do in STEM fields. My goal to [is] honestly to change the culture of where we are. To make it always seem like everyone can speak up. The whole idea of there are no dumb questions is maybe the best thing. I feel like you can cultivate in any role, just like everyone. You can ask the questions—you can say something dumb.
Oliveras: My mother was someone that I saw that had not only work ethic and integrity, but she also was a leader. I haven't always had other women that look like me because we haven't always been in these particular spaces. Being a woman, and a woman of color, in a leadership role, it's not until now that we're really starting to see that. I have been a big believer that if you can see it, you can be it. I'm hoping that I can be that for somebody and that we won't have to necessarily have conversations that are so unique because it'll just be who we are, and that will be the fabric of the future. For a lot of years in the early part of my career, I didn't use my voice. I had a voice but I had more of that heads-down, "they'll see my hard work" [attitude]. I've learned now that it's important to use your voice. Some of that might have been cultural. I was just grateful to be in the room and grateful to have the role and grateful to be working for Disney. You can't let some of that not allow you to be able to speak up. My goal is wherever I go in the future, I will leave it better than I found it. I will encourage people to use their voice. It's just important that people feel included.
For more information on Disney Parks visit the Disney Parks Blog.
---
Want more io9 news? Check out when to expect the latest Marvel, Star Wars, and Star Trek releases, what's next for the DC Universe on film and TV, and everything you need to know about the future of Doctor Who.