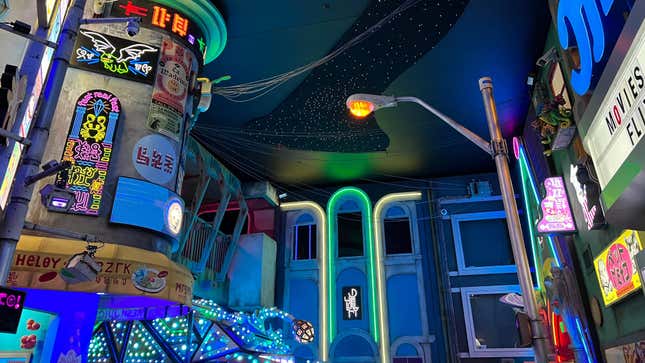 Meow Wolf continues to get right what other ambitious endeavors ultimately couldn't sustain in transporting people to other worlds. With three locations currently in operation, the immersive art collective is making way for more portals which depict a sort of future nostalgia of hope we can only work to make real in our multiverse.
Many may be confused as to what a Meow Wolf is. Is it an art museum? A theme park? A scary sci-fi escape room? A content creation pop-up? No, but it does have elements of all of the above. It's a themed and interactive walkthrough that taps into the id and unlocks something deep within anyone who visits. What exactly that is, really depends on you. It's abstract, with fantastical artistic environments filled with layered messages that aren't exactly photo or video-friendly, but can be if you get creative! It's perpetual perplexing chaos that quietly sneaks into your mind and makes you feel alive. It's hard to describe and the sort of place I always find myself telling folks, "Add it to your to-do list and just go see for yourself," if they happen to be visiting Sante Fe, Denver, or Las Vegas.
io9 recently attended NextStage 2023 to take part in a keynote from Meow Wolf creatives Director of Exhibition Narrative Joanna Garner and Senior Vice President of Emerging Media James Stevenson to find out more about how they do it—and what their plan is for the future of interactive participatory entertainment.