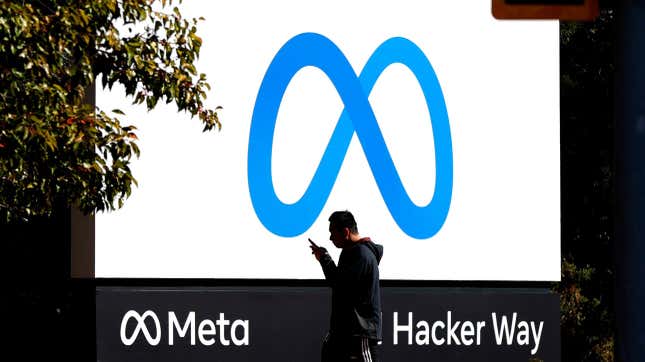 Apple and Google may soon have a new app store competitor to deal with. Meta, the maker of Facebook and Instagram, is reportedly working on a way for users in the European Union to directly download apps through a new type of Facebook ad. If successful, the move could potentially shake up the current duopoly of app store marketplace in the region.

Russian Court Says Meta Is "Extremist Organization"
Meta, according to The Verge, is planning to start testing the new types of ads in a pilot with a limited number of Android developers as soon as the end 2023. Both Google and Apple currently make it extremely difficult for users to find alternative methods to download apps on mobile devices but Meta reportedly believes all of that could change with the recently passed Digital Markets Act. That new legislation specifically calls on large tech companies to open their so-called open up so-called "walled gardens," and reel in self-preferencing behavior.
Meta did not immediately respond to Gizmodo's request for comment.
To sweeten the deal for participating developers, Meta is reportedly saying it won't take any percentage of in-app revenues from participating apps. That stands in stark contrast to Apple and Google, who've caught flack from developers and some regulators for years over their so-called app taxes which can range anywhere between 15 to 30% depending on the size of the developer.
Meta CEO Mark Zuckerberg hasn't shied away from criticizing the current state of app stores in the past. Last year, during an interview at The New York Times DealBook Summit, Zuckerberg took a jab at Apple's app store practices in particular, which he referred to as "problematic."
"I do think Apple has sort of singled themselves out as the only company that is trying to control like unilaterally what apps get on a device, and I don't think that's a sustainable or good place to be," Zuckerberg reportedly said. "I do think it is problematic for one company to be able to control what kind of app experiences get on the device."
Apple did not immediately respond to our request for comment.