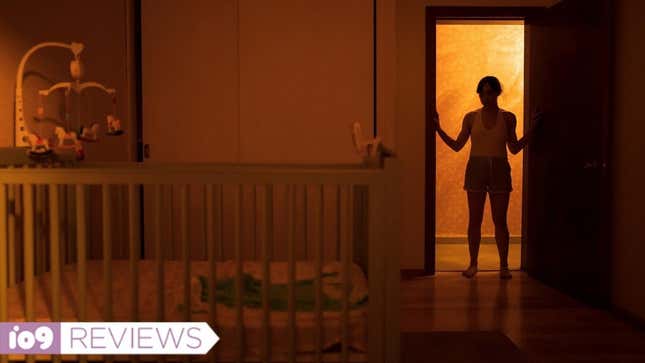 When we first meet Valeria (Natalia Solián), we see her as a young wife literally praying to become a mother. But her joy in discovering she'll be having a child with husband Raúl (Alfonso Dosal) is curiously guarded—and supernatural forces soon begin to hasten the splintering of her domestic facade.
Chris Pratt and Bryce Dallas Howard Nerd Out About Jurassic Park's Returning Heroes
Huesera: The Bone Woman is from Mexico—it's the accomplished debut feature of director and co-writer (with Abia Castillo) Michelle Garza Cervera—and though it ties into some culturally specific folklore as part of its story, the themes it explores around motherhood feel universal. When Valeria's sister, a single mom of two, mutters "you're not a kid person" to her pregnant sibling at a Mother's Day gathering, it feels like mean-spirited snark until we start to realize that's not far from the truth. From the start, Garza Cervera sprinkles her film with signs: every kid Valeria encounters acts weird and/or bratty around her, but even more distressingly, she starts to see and hear things that feel like like warnings. A large spider here, a phantom knock at the door there, an (apparently imagined) tragedy at the apartment across the street. There are physical complications to go with her mental fragility—like Rosemary in Rosemary's Baby, another occult-tinged motherhood tale, she's losing weight and having trouble sleeping. (The vivid nightmares that prowl her mind certainly don't help.) She also can't stop compulsively cracking her knuckles, a mild habit that becomes far more painfully vexing.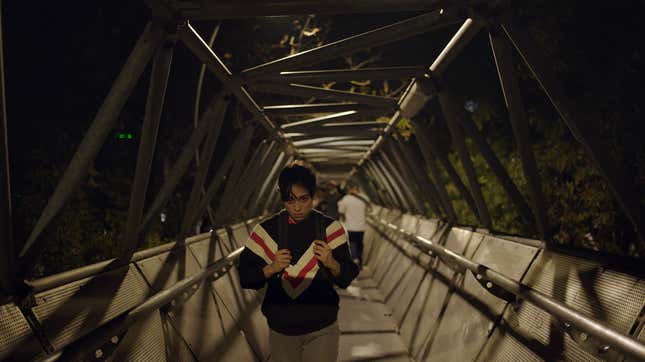 Raúl is increasingly a non-factor in all this; he defers a lot to his own mother, who keeps a subtle control over her son, and he isn't as supportive as he could be as his wife's episodes become more frightening. Though Valeria's sister and mother can be casually cruel—"We are not going to be like that!" Valeria tells Raúl after one fraught gathering—her unmarried aunt Isabel (Mercedes Hernández) provides much-needed comfort, as well as guidance when heavy-duty spiritual help becomes a necessary part of Valeria's medical care. The complicated family dynamics become clear the first time we see them gathered together; only later do we learn of a tragedy in the past that likely carved the wounds that are still a source of tension now.
Huesera: The Bone Woman is intimately concerned with Valeria's experience, and it fleshes out her character with subtle clues (her grimly determined face as she clears out her beloved furniture-making workshop so it can become a nursery; a box, stuffed in a closet, containing relics of her rebellious past, including a copy of punk legend Alice Bag's autobiography) before giving us a flashback that fills in a lot of blanks. A chance meeting with old flame Octavia (Mayra Batalla) reminds Valeria of a time before she settled down with Raúl and decided to follow a more conventional life path, but it's clear the dissonance between her inner and outer lives has been troubling her for some time. Another one of her sister's put-downs? Calling Valeria "fucking fake." Harsh, but there's some truth in that, and Valeria knows it.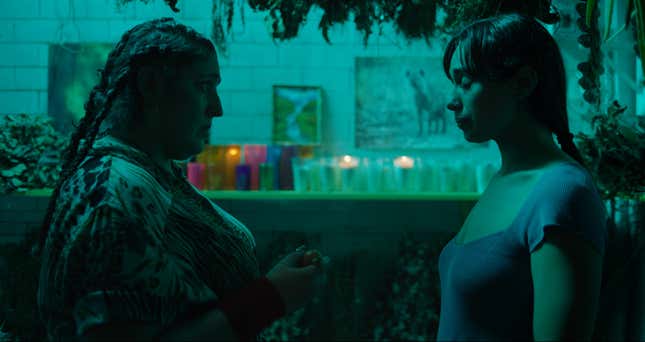 While Huesera: The Bone Woman is absolutely a horror movie—the soundtrack and cinematography are dark and eerie as hell, and when you have someone called "the bone woman" lurking around, expect some gruesome compound fractures to assault your eyeballs—it draws most poignantly on Valeria's emotional fragmentation, showing us a woman who's made choices she now regrets, and her terror at being trapped within them forever.
Huesera: The Bone Woman is now streaming on Shudder.
---
Want more io9 news? Check out when to expect the latest Marvel, Star Wars, and Star Trek releases, what's next for the DC Universe on film and TV, and everything you need to know about the future of Doctor Who.