The center of U.S. car innovation may have shifted toward California lately (*ahem* Google, Tesla), but Michigan carmakers aren't giving up. The University of Michigan is building a test city and highway just for automated cars—a 30-acre facility complete with traffic lights, construction zones, and a "mechanical pedestrian."
The Mobility Transformation Facility will open this fall in Southeast Michigan, right in the heart of the auto industry. It'll simulate both a four-lane highway and a city intersection—two very different environments with very different dangers. Just recently, Google announced that after driving its autonomous cars for thousands of miles through suburban Mountain View, it's shifted to focus on teaching its autonomous car to drive in cities.
This particular facility will feature all things that make driving in the city suck: wonky traffic lights, construction barrels, bikes, and more. "We will actually be writing code for the test facility," Edwin Olson, an assistant professor of computer science and engineering, said in a statement. "We'll be able to trigger tricky traffic signal timings, or a pedestrian stepping into the intersection at just the wrong time, for example." Presumably, Michigan's icy winters could also teach automated cars a thing or too about driving in awful weather uncommon in California.
The first test cars at this facility will be Ford Fusions. General Motors and Toyota are also on board. Crucially, as Motherboard points out, the cars will be automated but not autonomous, which means they'll still have a human behind the wheel but many parts of driving will be automated. That might sidestep some of the weirder scenarios that come out of autonomous cars, like whether your robot car should kill you to save two people.
G/O Media may get a commission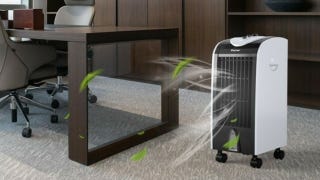 Save $10
Evaporative Portable Air Conditioner Cooler with Filter Knob
But it's the city, not the cars, that will be at the center of this. Its creators envision a networked system, where cars and buildings and traffic lights can all talk to one another to keep out of gridlocks. This is more than a simulated city—it's a vision of a future city. [University of Michigan via Motherboard]
Images via University of Michigan