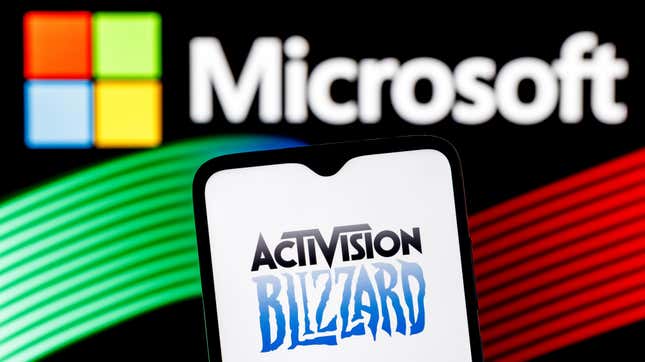 After the Federal Trade Commission sued to block Microsoft's acquisition of popular video game company Activision Blizzard over antitrust concerns, a California judge has given Microsoft the thumbs up to proceed with the $68.7 billion merger Tuesday—the largest purchase in gaming history.

Warning! Microsoft Wants ChatGPT to Control Robots Next
The ruling by Judge Jacqueline Scott Corley for District Court for the Northern District of California comes just ahead of the deal's July 18 deadline. Corley denied the FTC's injunction request in a victory for Microsoft. In the ruling, Corley wrote that the acquisition deal "deserves scrutiny" but that Microsoft has committed to not restricting access to games like Call of Duty while agreeing to bring Activision's portfolio of games to cloud-based gaming platforms. If the FTC does not file an appeal, the commission's injunction will be null and void.
"This Court's responsibility in this case is narrow. It is to decide if, notwithstanding these current circumstances, the merger should be halted—perhaps even terminated—pending resolution of the FTC administrative action. For the reasons explained, the Court finds the FTC has not shown a likelihood it will prevail on its claim this particular vertical merger in this specific industry may substantially lessen competition," Judge Corley wrote. "To the contrary, the record evidence points to more consumer access to Call of Duty and other Activision content. The motion for a preliminary injunction is therefore DENIED."
The FTC announced the move to block the deal back in December. Led by big tech opponent Lina Kahn, the FTC argued that the deal would allow Microsoft to suppress competitors from accessing the Xbox platform. The commission pointed to Microsoft's previous acquisition of ZeniMax Media—parent company of game studio Bethesda Softworks—in 2021 for $7.5 billion, which saw Bethesda release several high-profile game titles, including Starfield and Redfall, as Xbox exclusives. It wasn't until last month that the FTC actually filed for the injunction.
The U.S. government was not the only party dealing with the lawsuit, however, as the EU and UK made similar moves—to mixed results. In April, UK regulators with the Competition and Markets Authority succeeded in blocking the deal from going through, arguing that the acquisition would leave gamers with less choice while lining the pockets of Microsoft bigwigs. However, the next month, the European Commission approved the acquisition.