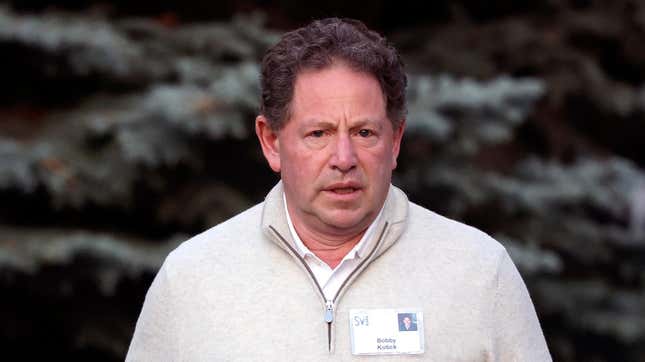 On Wednesday, UK regulators torpedoed Microsoft's planned $68.7 billion acquisition of Activision Blizzard, saying the deal wouldn't help anybody but the companies themselves.
Warning! Microsoft Wants ChatGPT to Control Robots Next
The country's Competition and Markets Authority, which had been reviewing the deal for close to a year now, said the deal would have drastically reduced competition in the cloud gaming sector especially. In the government release, the chair of the panel investigating the deal, Martin Coleman, said, "Cloud gaming needs a free, competitive market to drive innovation and choice. That is best achieved by allowing the current competitive dynamics in cloud gaming to continue to do their job."
Microsoft and Activision say they will appeal the decision. Activision's Chief Communication Officer Lulu Cheng Meservey tweeted her complaints about the UK's decision, saying "Global innovators large and small will take note that—despite all its rhetoric—the UK is closed for business." Activision CEO Bobby Kotick said in a release that if the CMA's decision holds it would "stifle investment, competition, and job creation throughout the UK gaming industry."
The near-$70 billion deal would have granted Microsoft and Xbox access to some of the world's biggest game franchises, from Call of Duty, to Warcraft, Overwatch, Diablo, and Candy Crush, just to name a few. The panel cited how Microsoft already has a head start in cloud gaming with its Game Pass service, and the British antitrust officials said the merger would likely incentivize Microsoft to increase subscription prices. According to regulators, the addition of Activision Blizzard's major IPs would "strengthen that advantage, giving it the ability to undermine new and innovative competitors."

Both Microsoft and Activision have bowed and scraped for any goodwill in their planned merger. Last year, Microsoft's regulatory fillings to the UK showed that it had been interested in a mobile gaming platform that could compete with the likes of Google or Apple in their app stores. Still, Microsoft cited this as a way to "expand choice" for gamers, rather than a way to further monopolize its already domineering position as one of the three legacy console manufacturers.
Execs at both Microsoft and Activision Blizzard are pretty miffed about the UK trying to sink their deal, and both companies immediately said they planned to appeal. Microsoft President Brad Smith released a statement saying the company is "fully committed to this acquisition." He reiterated the company's claims that it would allow popular Activision franchises like Call of Duty to be published on other consoles and devices.
Despite Kotick's words touting his teams' success, Activision has been cited as a notoriously rough place to work. In February, Activision Blizzard paid out a $35 million settlement to workers over a massive wave of workplace harassment allegations. Just this month, Activision settled another lawsuit from the U.S. Department of Justice alleging the company had effectively placed a salary tax on esports players.

This now gives a big boost to U.S. regulators who have also grumbled about how this merger would deepen an increasingly anti competitive games industry. The Federal Trade Commission under chairperson Lina Khan has been itching to get after this and other major multi-billion dollar mergers. Last year, the FTC voted to launch a lawsuit to block the $69 billion acquisition, also citing expansion of Microsoft's cloud gaming business. Earlier this month, the agency also alleged the move would "suppress competitors" and scheduled a hearing on the merger for August.
---
This article is part of a developing story. Our writers and editors will be updating this page as new information is released. Please check back again in a few minutes to see the latest updates. Meanwhile, if you want more news coverage, check out our tech, science, or io9 front pages. And you can always see the most recent Gizmodo news stories at gizmodo.com/latest.