Crossovers are a mainstay of pop culture, but they rarely address the deepest questions posed by their fictional universes. "What if Guy Fieri was Han Solo?" you might ask. "What if the Joker had a beard?" Thanks to a criminally deranged Skype bot named Murphy, you needn't wonder any longer.
According to Microsoft, Murphy is an experiment that uses "the knowledge of Bing" and "the intelligence of Microsoft Cognitive Services" to answer imaginative hypotheticals. According to our own tests, Murphy is a window into the darkest corners of one's mind.
"Murphy will try to respond with an image that visualizes an answer to your question," writes the company, vastly underselling the fearsome power of its mashup tool.

When we asked Murphy "What if Jon Snow was a Teletubby?", for instance, it generated this monstrosity:
G/O Media may get a commission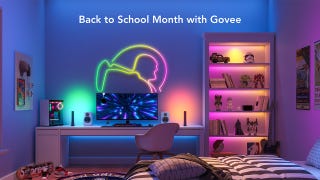 Back to School
Back to School Month with Govee Sale
And when we asked it to imagine a Sith Lord as a certain animated ogre, we got this:

But Murphy isn't limited to questions about movies and TV. When our conversation turned to matters of politics and religion, the bot proved to be just as adept.
In the end, however, Murphy's most convincing creation was perhaps the scariest of them all.

If you'd also like to make your own AI-generated nightmare mashups, you can try Murphy for yourself here, but don't say we didn't warn you.
And please, share your work in the comments.