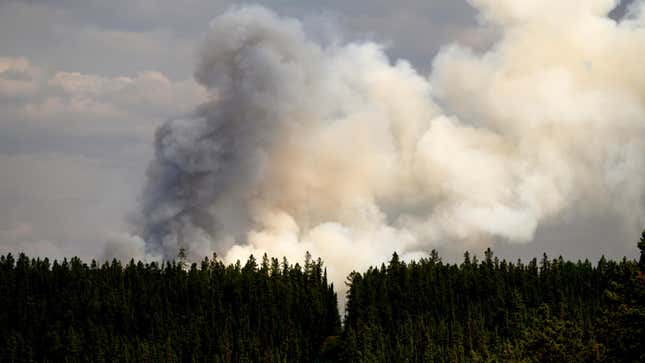 Another round of wildfire smoke has been pushed down from Canada and over the United States, sparking air quality alerts and exposing communities to polluted air, again.

Coastal Animals Are Thriving on Plastic Pollution Out in the Pacific Ocean | Extreme Earth
"Canadian wildfire smoke responsible for Air Quality alerts over parts of the Northern High Plains, Midwest, Great Lakes, and Northeast," the National Weather Service (NWS) forecast said. The forecast warned that the smoke will likely linger for some states. It may clear up in central states by Tuesday but is expected to create unhealthy air quality for the East Coast tomorrow as well.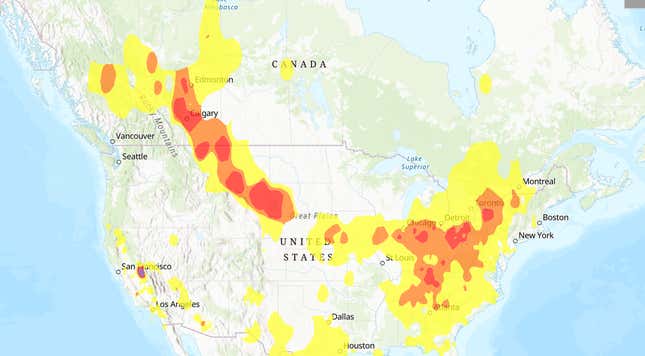 Though the air quality isn't as bad as a few weeks ago, when Chicago's air quality was the worst of any major city worldwide, it's still not great. Detroit currently has the tenth worst air quality of any major city in the world, according to data from IQAir.
According to the U.S. Environmental Protection Agency's AirNow air quality monitor, Chicago's air quality is "unhealthy" today. Both Cleveland, Ohio and Pittsburgh, Pennsylvania are experiencing unhealthy air quality this morning. Detroit's air quality is currently "unhealthy for sensitive groups." And further south, Nashville, Tennessee's air quality is considered "unhealthy for sensitive groups" this morning.
Late last month, a gust of Northern wind pushed wildfire smoke down over the Great Lakes region, significantly affecting Chicago residents. At the time, there were less than 500 wildfires throughout Canada. As of this past weekend, there are over 880 wildfires north of the U.S., according to data from the Canadian Interagency Forest Fire Centre. 580 of those fires are currently out of control, and only 203 are under control.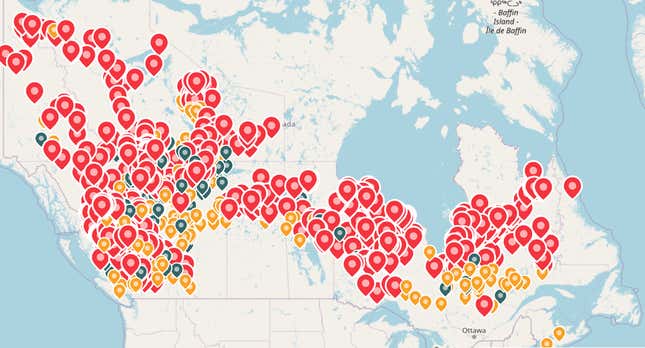 The number of wildfires in Canada jumped this month after thunderstorms in the British Columbia region sparked more fires, Euronews reported. This past spring's unseasonably warm and dry conditions, especially in densely forested areas, have made it harder for firefighters to control and extinguish fires. States across the U.S. can expect more wildfire smoke to come.
Want more climate and environment stories? Check out Earther's guides to decarbonizing your home, divesting from fossil fuels, packing a disaster go bag, and overcoming climate dread. And don't miss our coverage of the latest IPCC climate report, the future of carbon dioxide removal, and the un-greenwashed facts on bioplastics and plastic recycling.