A few years ago, the Pentagon started misplacing some very expensive and highly sensitive equipment. As if that weren't embarrassing enough, the equipment has since started appearing on sites like eBay and Craigslist.

It's an astounding story. A Navy intelligence document obtained by The Intercept spells out the situation in clear terms, noting that the devices "are NOT for civilian use and are controlled under the International Traffic in Arms Regulations." Well, apparently some eBay users don't care very much about arms trafficking rules. The Intercept found the above listing for a "Insight CNVD-T Clip-On Night Vision Device Thermal System." It can be yours for just $16,599—with free shipping! That's an enticing 27-percent off the list price. But you'll notice that it's the exact same model listed as missing in the Navy intelligence document:
That highly sensitive piece of military equipment is still for sale, by the way. The Intercept also found an expired listing for a "UTMx Universal Thermal Monocular" by a seller from Rincon, George. The auction started at $6,000 and got zero bids. Here's the same device in the Navy intelligence document:
G/O Media may get a commission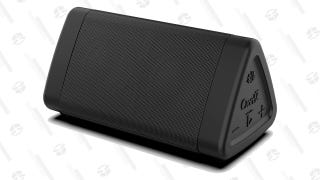 Save 31%
Oontz Angle 3 Portable Bluetooth Speaker
It turns out the missing equipment comes from a problematic Pentagon program called RCOS/Keyhole. The agency that funds this program is the Joint Improvised Explosive Device Defeat Organization (JIEDDO), and it's apparently even more problematic. The Intercept explains:
The RCOS/Keyhole program attracted attention in 2011 when Medal of Honor recipient Dakota Meyer sued BAE Systems, accusing the company of retaliating against him for criticizing the company's possible sale of night vision equipment to Pakistan. Meyer was concerned that advanced U.S. technology sold to Pakistan could end up being used against U.S. forces.
So a problematic Pentagon program that possibly sold equipment to the enemy also lost equipment that's being sold on eBay to whomever has a few thousand bucks. In a remarkable turning of the tables, taxpayers could buy back military equipment that they paid for to begin with. Put another way, the enemy could buy equipment (via PayPal) that was meant to protect American soldiers. Well, eBay always was the spot to buy rare things from total strangers.
---
Contact the author at adam@gizmodo.com.
Public PGP key
PGP fingerprint: 91CF B387 7B38 148C DDD6 38D2 6CBC 1E46 1DBF 22