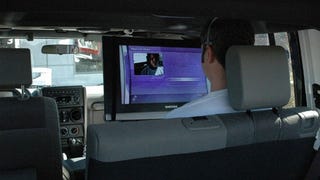 You love late night trips to the drive-thru at In and Out. You love your Xbox 360 with all the peripherals. And you most certainly love your online 16-man sessions of Lost Planet. Why not safely unsafely combine these three for pure gamer euphoria?
These guys over in Google's hometown of Mountain View use the search engine's free Wi-Fi to power their mobile next-gen gaming rig, which features a 23-inch Samsung LCD screen, Xbox 360, and most importantly, the Xbox Vision Cam for those tense deathmatch games of UNO.
What should they go for next? Get EV-DO in there for some serious cross-country action.
Playing Xbox Live While Driving [via Kotaku]