By now, it seems safe to say that Doom can be played on any device a person wants. It's been adapted for printers, ATM machines, calculators, the Apple Touch Bar and many others. But none of those devices have 370 horsepower to send you careening down a road, honking like a maniac while you blow demons back to hell.

A YouTuber going by the name vexal uploaded this video tutorial showing what he claims to be a step-by-step guide to playing Doom on the console screen of a Porsche 911. That would be moderately interesting on its own but as he explains, the cars shifter, horn, accelerator and steering wheel all control the game—meaning you drive while you play.
According to his steps, take a flash drive that contains a single file with the car's VIN number on it. Insert the drive into the Porsche's USB slot and start the car. That should take the computer system into debug mode. Then, insert the game (he shows Doom II but says it works with the original as well) and select it on the console screen.
Once the game is fired up, start driving, start shooting and start praying because this isn't safe. In fact vexal says that this video was shot on private property and warns not to try this on public roads. We'll go further and suggest no one tries this at all. Even on private roads you could hurt yourself or your incredibly expensive sports car.
[YouTube]
G/O Media may get a commission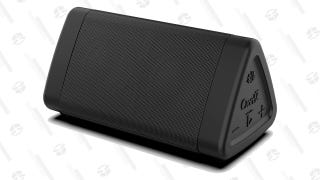 Save 31%
Oontz Angle 3 Portable Bluetooth Speaker