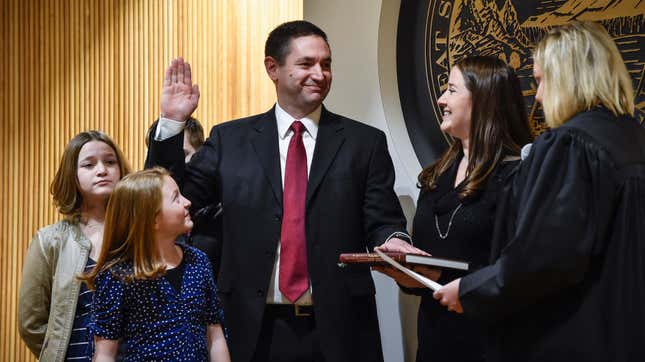 Montana's lawsuit-hungry attorney general Austin Knudsen wants US courts to think of TikTok less like a light-hearted home for viral trends and more akin to the harbinger of a life-threatening disease. In recent court filings defending his state's unprecedented ban on the short-form video app, Knudsen compared TikTok to a "cancer-causing radio," something he said lawmakers would likewise have a duty to prohibit, freedom of expression concerns be damned. Restricting the app may hamper some online speech, the conservative AG admitted, but that tradeoff is necessary to combat "data gathering by a hostile foreign state."
Mourning the Loss of Addison Rae's Debut Album | The Meme Machine
"Our legislators and Governor Gianforte did the right thing in prohibiting TikTok from operating in Montana as long as it is under the control of a foreign adversary," Knudsen said in a statement. "My office looks forward to vigorously defending the law as this case proceeds."
Knudsen's defense comes on the heels of a pair of lawsuits launched by Montana-based TikTok creators and the company itself seeking to have courts kill the law before it takes effect in January. If Montana succeeds, the law would fine app stores up to $10,000 per day for allowing downloads of the app in the state. Opponents of the ban, like the American Civil Liberties Union and the Electronic Frontier Foundation, argue it could close off a major forum for online speech, which would amount to a clear violation of TikTok's users' First Amendment Rights.
The AG countered that point in his brief though, arguing state lawmakers like himself still possess the ability to regulate or ban dangerous products even if they can simultaneously be used as a vehicle for protected speech. To buttress that point, Knudsen pointed to a 1986 Supreme Court decision that denied a bookstore First Amendment protections because it had become a site for prostitution. The First Amendment, he argued, only extends so far.
"Were it otherwise, Montana would be powerless to ban a cancer-causing radio merely because that radio also transmitted protected speech, or to ban sports-betting apps merely because those apps also shared informative videos teaching their users the intricacies of sports gambling," Knudsen said.
Montana AG compares TikTok ban to mandatory school dress code policies
Knudsen went on to compare the state's TikTok ban to a law mandating school uniforms. Opponents to mandatory dress codes previously argued such requirements would inhibit student's right to expression, only to have courts uphold the rule because it still lets students express themselves via other outlets, like their voices. Similarly, Knudsen said the TikTok ban is akin to uniforms because it only restricts one avenue or particular product and doesn't ban video sharing from other competing apps like YouTube. Montana TikTokers, he suggested, could simply express themselves using another app.
But multiple TikTok creators opposing the ban have told Gizmodo it would be difficult if not impossible to recreate or carry over their same audience on TikTok to other platforms. Some users like veteran and metal sculptor Rick Baker told Gizmodo that TikTok has helped form niche online communities where other veterans can connect and deal with the trauma of war. Baker fears that could simply vanish if TikTok is made inaccessible.
"It would be a huge hit for me," Baker told Gizmodo. "I don't think lawmakers understand the impact this can have on small business."
TikTok's lawyers similarly took issue with the state's apparent effort to craft legislation that appears written to address a federal nation security issue. Knudsen pushed back against that argument as well, saying states with small populations like his, which is made up of just over 1 million residents, also have an interest in defending national security. Montana, the AG noted, is one of 45 states currently investigating TikTok's safety and data harvesting features for evidence of foreign surveillance. TikTok maintains it doesn't share US user data with the Chinese government, though a former Byte-Dance executive and multiple whistleblowers have alleged that's not the case.
It's difficult to disentangle growing national unease over TikTok's Chinese ownership from the Montana ban, a fact Knudsen notes in a recent interview with The Wall Street Journal. The AG credited part of the bipartisan support the bill received to growing anxiety and nonstop news coverage documenting a pair of Chinese spy balloons that crossed in Montana earlier this year. The balloons hovered around Big Sky Country just as the explicitly China-weary TikTok bill was being considered by lawmakers.
"The Chinese Communist Party did us a hell of a favor, that balloon floating all the way across Montana," Knudsen told the Journal. "That absolutely galvanized some legislators."
TikTok ban could set 'worrying precedent for access to speech'
An expert in the laws of online speech pushed back on Knudsen's argument. NetChoice associate director of litigation Nicole Saad Bembridge worried a court ruling accepting the state's reasoning could set a "worrying precedent where Americans' access to information on the internet can be dependent on local politicians' individual preferences." NetChoice has vigorously opposed the Montana ban and filed briefs in support of creators.
"Montana tries to skirt the First Amendment's constraints by calling the ban a regulation of conduct rather than speech," Saad Bembridge said. "But if states had free rein to restrict speech by simply calling it 'conduct,' freedom of expression would be a hollow guarantee."

Saad Bembridge said we've really already been here before. Montana's argument, she said, follows in close step to a short-lived 2020 effort by the Trump administration to ban TikTok country-wide on devices on national security grounds. In that case, a US District Court struck down the attempt after finding a lack of evidence the ban would actually address national security concerns.
"This ban should be treated no differently," Bembridge added.