TWC and Comcast get desperate, the 3d-printed future hits a setback, and an amazing technological achievement turns half a century old. BitStream has all the news and rumors you missed while laxing your weekend away.
Electronics magazine turned 35 years old in 1965. To recognize the achievement, cofounder of Intel Gordon Moore took the opportunity to speculate on the future of electronics. He's what he said:
The complexity for minimum component costs has increased at a rate of roughly a factor of two per year. Certainly over the short term this rate can be expected to continue, if not to increase. Over the longer term, the rate of increase is a bit more uncertain, although there is no reason to believe it will not remain nearly constant for at least 10 years.
However, instead of lasting only 10 years, it's lasted half a century.
G/O Media may get a commission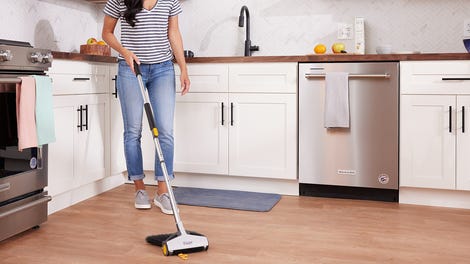 BOGO 50% Off
Flippr - BOGO 50% Off
Although Moore's law has been a guiding principle for so many years, the law is constantly under debate whether it will continue to hold up as chipmakers hit the physical limits of silicon and the ability to escape heat at such a small scale. The current 14nm process is incredibly, incredibly tiny without much room left for chip manufacturers to work with. But for the immediate future, Intel has plans for a new 10nm process and is already working on a 7nm process that may require a 3D package with each die stacked on one another.
The future is definitely uncertain, but at least it's exciting.
Apps and Devices
Sony's super-thin (and super-expensive) 4K television are up for presale with 43-inch sets starting at $1,300. [Sony]

Makerbot just fired one-fifth of its workforce, perhaps showing a changing tide for 3D printing where hardware and retail is only a small part of additive manufacturing's future. [Motherboard]

Time Warner Cable and Comcast are meeting with the Justice Department to save their massive merger. Sounds like somebody can't take no for an answer. [The Wall Street Journal]
Rumors!
New Sport band colors may be coming to the Apple Watch if images from the Milan Design Week are any indication. [9to5Mac]
Thousands of apps will be ready when Apple Watch becomes officially available this Friday, and one among them will be Instagram with its first wearable application. Patently Apple]

Make your own adorable BB-8, that new droid from the epically awesome Star Wars trailers, with a Sphero and some magnets. [Make]

What You Might Have Missed on Gizmodo
New MacBook Review: Stupidly Thin
Norway Will Be the First Country to Turn Off FM Radio in 2017
NASA Says Nobody's Going to Mars Without Its Help
Welcome to Astroid War Games, Where Scientists Practice Saving the Earth

Fanboys Stab Each Other Over Android Vs. Apple
This Taut, Cruel Horror Flick is Shot Through a Teen's Laptop Screen