The live action Aladdin movie has found its villain. Noomi Rapace's clone thriller Seven Sisters gets a new name. Familiar faces are confirmed to return for Arrow and The X-Files. Plus, footage from Orphan Black's final episode. Spoilers now!

Star Wars: The Last Jedi
The inadvertent early display of an upcoming toy from the movie—depicting a Canto Bight "police speeder"—confirms that Canto Bight itself is just the name of a city, and not a planet, and that the casino-city is actually on a planet called Cantonica. Here's the description from the back of the box:
Anyone attempting to break the law on Cantonica had best move fast, as the police force of Canto Bight has at its disposal these swift, lightweight pursuit craft.
While trying to extricate details about a movie's plot from its merchandise is always fraught with danger, it's possible these police speeders, if they weren't just made for the toy line, play a part in the major chase sequence in Canto Bight we heard about a few months ago. [Star Wars News Net]
---
Aladdin
The Hollywood Reporter reports Marwan Kensari has been cast as the villainous Jafar, grand vizier to the Sultan of Agrabah.
G/O Media may get a commission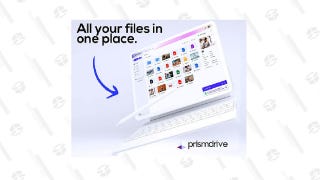 Save 97%
Prism Drive Secure Cloud Storage: Lifetime Subscription
---
Aquaman
Some new aerial footage from 7 News Australia gives us a panoramic look at the film's Amnesty Bay set, which, luckily, one stalwart Aqua-fan was ready to capture off his or her television.
Relatedly, a set photo from the DCEU Leaks Reddit depicts Mera leaping from a the roof of a cottage to flee some heavily armored (presumably Atlantean) soldiers.
---
Guardians of the Galaxy Vol. 3
James Gunn spoke to Collider about scripting the third Guardians of the Galaxy movie.
It's been pretty easy. The truth is, the first movie is the first act, the second movie is the second act, and the third movie is the third act so I'm tying a lot of stuff together in the third film. We get a lot of answers on a lot of different things, so doing that in an elegant way takes a little bit of grace and elegance. It's more challenging in that respect writing the third movie than the second movie.

I do an incredibly in-depth treatment for every movie. I think of writing a screenplay as creating the body of a human being and you've got to start with the skeleton, start with the bones, and you create the bones. You take a lot of time because that's the actual base of the movie and if you screw that part up, later on down the line, you're going to have a lot of mistakes. So by creating a really strong foundation for the story, that's the most important thing. So I write a good treatment that's probably about 70 pages long. It includes photographs and things like that. So that has been the way I've dealt with every movie and this one as well.
---
Annabelle: Creation
Another new clip pits Annabelle against an antique toy rifle, while exploiting your childhood fear of bunk beds.


---
What Happened to Monday

Netflix has released a new trailer for the Noomi Rapace dystopian clone drama Seven Sisters—which has apparently changed its titled to What Happened to Monday
---
Supergirl
TV Line reports Carlos Bernard has been cast as Maggie's father—a conservative ex-cop named Oscar Rodas who kicked Maggie out of her family house when she came out as lesbian, so expect family drama ahead (on a CW show? Well I never).
---
X-Files
Annabeth Gish has confirmed she'll return as Monica Reyes for the next season of the show.
---
Agents of SHIELD
According to Deadline, Jeff Ward has been cast as a currently undisclosed—but recurring—character in the show's fifth season.
---
Arrow
Sydelle Noel has joined the cast of season six as Samandra Watson, an "intelligent" and "poised" FBI Agent with a "non-nonsense attitude" investigating Oliver Queen's ties to the Green Arrow. [Variety]
In related news, Joe Dinicol will return as Rory Regan, a.k.a. Ragman, according to executive producer Marc Guggenheim:
---
Legends of Tomorrow
Actor Simon Merrells—who played Marcus Licinius Crassus on Spartacus—has been cast as Julius Caesar on Legends of Tomorrow. [CBR]
---
Legion
During a panel at San Diego Comic Con, Dan Stevens teased we'd be seeing some classic X-Men costumes in the new season, and perhaps even David Haller's iconic hairdo.
There's some cool outfits that we haven't seen; there's some hair that we've got to work up to; there's also some locations... there's some stuff in Tibet in the comics, I wouldn't be adverse to it.
---
Once Upon a Time
Regina's new name and identity this season will be "Roni", proprietor of the town's bar, Granny's. Executive Producer Andrew Kitsis told Entertainment Weekly, "It's the new Granny's—with alcohol and cassettes."
---
American Horror Story: Cult
A quick new teaser features an army of clowns swaying in unison.
---
Orphan Black
Finally, no one is safe in the trailer for the series finale of Orphan Black.
---
Banner art by Jim Cooke.