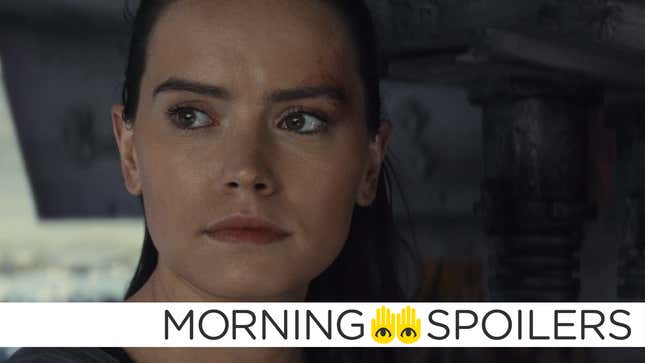 An Avenger could be joining Spawn. Lea Thompson really wants to direct a Howard the Duck reboot. Netflix is adding another creepy YA series to its roster. Plus, new footage from Humans and The First Purge, and Boots Riley talks Sorry to Bother You. Warn Adams and Hancock—the spoilers are coming!

Apple's Vision Pro Seems Powerful, But Who Is It For? | Future Tech

Star Wars: Episode IX
"Due to a film schedule conflict", Billy Dee Williams will not be able to attend this year's Saskatchewan Entertainment Expo, possibly indicating Lando Calrissian really will return for J.J. Abrams' Episode IX.
---
Spawn
That Hashtag Show reports Jeremy Renner is in talks to play NYPD homicide detective Max "Twitch" Williams in Todd McFarlane's reboot of Spawn.


---
Howard the Duck
Lea Thompson confirmed she's serious about directing a Howard the Duck movie in a recent interview with Syfy Wire.
I don't know, but I'm trying to get it done. But I don't know, we'll see, we'll see… I'm trying. When we made Howard the Duck there wasn't the CGI, there wasn't the script, there wasn't the Marvel machine behind it. And I think they have a slight appetite for it, since they're drawing him for Guardians of the Galaxy. An appetite for duck. Duck a l'orange.
---
Friday the 13th
In a recent interview with We Got This Covered, Platinum Dunes co-founder Andrew Form stated, "rest assured, we are doing everything we can" to iron out the lawsuit between Friday the 13th writer Victor Miller and director Scott S. Cunningham.
There's a lawsuit going on and the rights are a little messed up. But rest assured, we are doing everything we can to be involved with that and we wholeheartedly believe that another version, another incarnation of Friday the 13th, needs to be made and brought out to the world, and we're gonna do everything we can to do it. Every year, we look at the schedule and say, 'When's the next Friday the 13th? When can we have a movie ready?' We love Jason and we hope we can make another one.
---
Ant-Man & The Wasp

Syfy Wire also has interviews with Paul Rudd, Evangeline Lilly and Michael Douglas.
---
The First Purge
In new featurette, The First Purge star Lex Scott Davis predicts we're perilously close to becoming a Purge-based society. "What makes The Purge saga scary is the fact that it's realistic because of the time we're in now, this could be a real situation."
---
Sorry to Bother You
Writer/director Boots Riley discusses his head-spinning genre mash-up in a new featurette.


---
Untitled YA Mystery Drama
Netflix has ordered a currently untitled "survival/mystery" drama from Party of Five creator, Chris Keyser. The series concerns a mysterious stench causing a small town in New England to evacuate, leaving "200+ teenagers" marooned in the stinky hamlet.
When West Ham, an idyllic New England suburb, becomes polluted with a rotten stench in the air, the parents of the town decide to bus their teenage children away for their own safety. Things get strange, however, when, after hours on the bus, the 200+ teenagers are mysteriously redeposited back in New Ham in the middle of the night. The stench is now gone, but also gone are their parents & any road leading out of town (all of which are now blocked by a thick forest). Now with no way out, no grown-ups, or even a connection to the outside world to govern them (even the internet has turned to static), these teens will party, panic, grieve, fight, and ultimately have to decide how to deal with the unthinkable… how will they survive this? Is that even possible?
---
Cloak & Dagger
Spoiler TV has images from July 19th's episode, "Ghost Stories". Click through for more.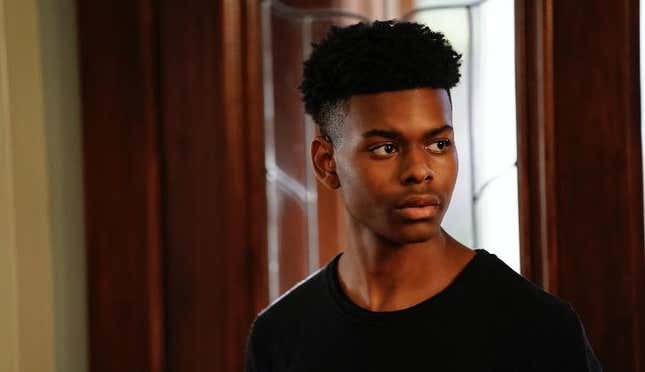 Tandy and Melissa prepare to commemorate the 8th anniversary of Nathan's passing with their annual memorial tradition. When Tandy gets a key piece of information regarding her father, she uses this day to try and finally clear her father's name. Meanwhile, Tyrone's parents prefer not to mark the day Billy passed, but Tyrone's need to keep Billy's memory alive causes conflict among the three. Deciding today is the day he gets a confession out of Det. Connors, Tyrone goes to Det. O'Reilly for help.
---
The Outpost

The CW has a new teaser for their upcoming violent fantasy series, The Outpost.
---
Humans
Nyska gets a lead on the Synth Who Sleeps in a clip from next week's episode.
---
Banner art by Jim Cooke.