Germain Lussier is a senior reporter covering entertainment on the io9 section of Gizmodo. He lives in Los Angeles, specializes in film coverage, and is also our lead film critic. You can follow his coverage here, and email story ideas and tips to germain.lussier@gizmodo.com.
The top story:
Nine of the ten highest-grossing films of 2022 were all sequels. Five of those ten were superhero movies. And all of that might sound incredibly depressing, but it's been the status quo for over a decade. People go to the movies to see big, blockbuster franchises they are familiar with. But last year even some of those couldn't break through. How does a Toy Story spinoff only make $118 million? A Harry Potter movie less than $100 million? With home viewing windows shrinking, and streaming services improving, is the theatrical film experience dying? In 2023 we'll find out if anyone can save the experience of going to the movies.
What we're waiting for:
A box office boom. 2023 is chock full of more potentially crowd-pleasing theatrical movies than the last few years combined. Marvel Studios has three movies, DC has four movies, there are two Spider-Man themed movies, a new Indiana Jones, Transformers, Mission Impossible, Fast and Furious, animated Super Mario, live-action Little Mermaid, big horror franchises, comedy franchises, Barbie, you name it. It could be a huge year at the movies.
Critical hits. Outside of big franchises, 2023 also brings films from big-time filmmakers. Martin Scorsese, Hayao Miyazaki, Christopher Nolan, Wes Anderson, Denis Villeneuve, Steven Soderbergh, M. Night Shyamalan and more, all of which could be both critical and financial successes.
For streaming releases to show legs. There's lots of original films coming from streamers like Netflix, Apple TV+, Disney+ and others - but we'll have to wait to see if any break through culturally, or if they're just popular for a week and disappear.
G/O Media may get a commission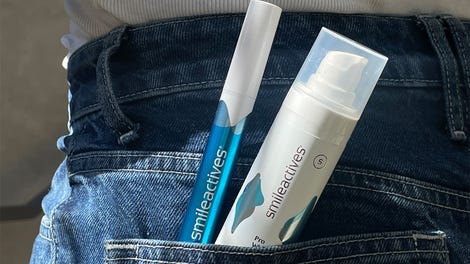 58% off
Whitening Powerhouse Pen & Gel Duo
Unconventional wisdom:
Many factors are contributing to people not going to theaters as much. The ongoing covid-19 pandemic, shrinking home release windows, rising price of tickets, etc. But while many would bet on those trends continuing and theatrical attendance dwindling, I say the opposite. This 2023 slate is impressive. It has so many big-name movies, things even your grandparents have heard of, that it could help bring the entire industry back.
People to follow:
Bob Iger - The CEO of The Walt Disney Company makes the kinds of decisions that change the course of film history. Will 2023 bring more of those? We'll see.
James Gunn - Not only does Gunn have the highly anticipated release of Guardians of the Galaxy Vol. 3 coming, he'll spend 2023 reshaping the future of DC Films along with his partner Peter Safran. It's a job that will be one of the biggest stories of the entire year, and possibly define the future of Warner Bros. Discovery.
Phil Lord and Chris Miller - These producer partners/filmmaking duo have two Spider-Verse films on the way, and seem to have their fingers on the pulse of what audiences want.

Patty Jenkins - No longer directing Wonder Woman 3, but maybe once again directing a Star Wars movie. Whatever Jenkins' next move is, you can bet it will be closely followed. Does she make another franchise film? Will she be wooed by a streamer?
Companies to watch:

The Walt Disney Company - No surprise here. Disney controls so many major brands and franchises... Marvel, Lucasfilm, Pixar, Disney Animation, Disney+, ESPN, Hulu... they're constantly the highest-grossing studio in the world, and all-time tastemakers.
Netflix - Again, no surprise here. The biggest streamer in the world is sure to have a ton of surprises coming out and its finger on the pulse of the streaming industry.
Paramount Pictures - A few years ago, the legendary Paramount Pictures was downswing. No big hits, no franchises, nothing. But that's begun to change, thanks in part to careful planning, and 2022's top-grossing film Top Gun Maverick. 2023 has them really back in the game with a few of the biggest, most anticipated films of the year.
A longshot bet:
While the top ten highest-grossing movies will, again, all be franchise pictures, 2023 might be the year a streaming service finally cracks through and wins the Oscar for Best Picture. (Which would happen in 2024, but, for 2023 movies.) Also, the highest-grossing film of the year won't be from Marvel or DC.