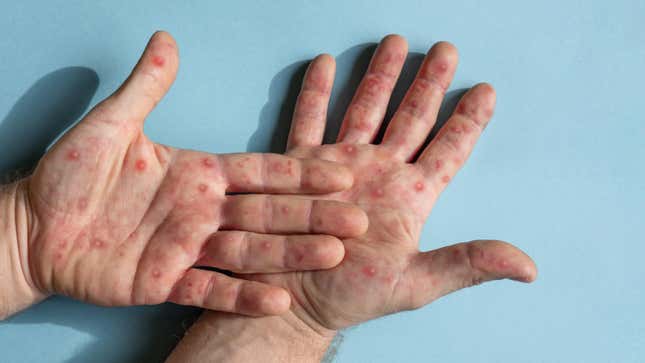 Mpox, previously known as monkeypox, could be poised to make a comeback in the U.S. Several states have reported a recent increase in cases, including in people vaccinated against the viral disease. It's possible that large outbreaks could once again emerge in the near future, the Centers for Disease Control and Prevention warned.
Won't Virtual Reality Make Me Sick?
Mpox is caused by the monkeypox virus, a close cousin to the smallpox virus. Like smallpox, its symptoms typically include flu-like illness and a distinctive rash. Rarely, the infection can lead to severe, life-threatening complications, including pneumonia, brain inflammation, and sepsis.
Until recently, mpox was primarily a zoonotic disease—spreading from animals to humans—that periodically caused outbreaks in parts of Africa. But last year, the virus burst onto the world stage, with outbreaks that spread widely from person to person. As of early May, at least 80,000 cases in over 100 countries have been documented worldwide since the start of 2022, along with 140 deaths (fortunately, the strains that circulated globally belonged to a less lethal lineage of the virus). This has included over 30,000 cases and 42 deaths in the U.S.
The widespread emergence of the virus eventually led the World Health Organization to declare a public health emergency of international concern, the first since the covid-19 pandemic. Thankfully, there was already a vaccine developed against mpox prior to 2022, and it's believed that existing smallpox vaccines would provide significant protection against it as well.
The disease can spread through any kind of direct contact with infectious lesions or other parts of the body. But these recent outbreaks have largely been transmitted through sexual contact, especially among men who have sex with men. Public health awareness and vaccination campaigns targeted to these groups are thought to have helped stem its spread since last summer, when cases in the U.S. and the world reached their peak.
By last winter, new documented U.S. and global cases of mpox had plummeted. In January, the U.S. lifted its public health emergency related to mpox, while the WHO ended its declaration just today. And as of late April 2023, the nationwide average of reported cases in the U.S. had dropped to zero. But there has been an uptick more recently.
Sixty cases have been reported to the CDC in the past two weeks across eight states, CBS News reported Thursday. Some of these might be older cases only now being reported, but there have been genuine new clusters. In a health alert released Wednesday, for instance, the Chicago Department of Public Health announced that it has "identified a resurgence of cases of mpox."
These newest outbreaks still appear to be spreading primarily among previously identified high risk groups. But, in an alarming development, they're occurring in vaccinated people as well. Nine of the 13 cases in Chicago so far documented have been in fully vaccinated men. Several of these men had also recently traveled to other places, including New York City and Mexico. Though it's expected to provide substantial protection against infection, the vaccine isn't 100% effective, and its protection may wane over time, according to the CDC.
Despite the news, vaccination is still thought to be one of the most effective strategies for containing mpox. Health officials continue to advise people at high risk to get the two-dose vaccine. Even in vaccinated people who catch mpox, the vaccine would likely reduce the odds of severe illness. Higher rates of vaccination coverage in high-risk communities can also limit the potential of the virus to spread widely.
While mpox isn't thought to have the epidemic potential of diseases like covid-19, health officials have long warned that its threat may not be over yet. In April, a modeling assessment by the CDC estimated a greater than 35% chance of resurgent outbreaks in most parts of the U.S. if nothing changes—outbreaks that could be larger than those seen last year. In these areas, vaccination coverage among high-risk populations still remains relatively low, the CDC noted.