We finally have our first look at Mr. Bones, the battle droid-turned-potentially insane protector of the young Snap Wexley and breakout star of Chuck Wendig's Star Wars: Aftermath novel. The weird thing is he looks an awful lot like Darth Maul.

If you haven't read Aftermath, Mr. Bones is a B1 battle droid heavily modded by Temmin Wexley (who grows up to be Snap, one of the rebel pilots seen in The Force Awakens, played by longtime J.J. Abrams pal Greg Grunberg). Mr. Bones been described by author Chuck Wendig as "kind of sweet, in a demented sort of way." When he kills people, he has a tendency to hum a lively tune.
If you're about to dismiss Mr. Bones because he's a Battle Droid, well, it's a mistake several people make in Aftermath... but not for very long. Mr. Bones is a whirling dervish of murder. According to Wookiepedia, he's been implanted with martial arts fighting skills (The Matrix-style), dance moves from "Ryloth la-ley dancers", and ability to move like General Grievous. He's also decorated with the bones of animals like birds and fish, hence his name.
And now we know he also has a terrifying Darth Maul-esque red-and-black color scheme, too.
G/O Media may get a commission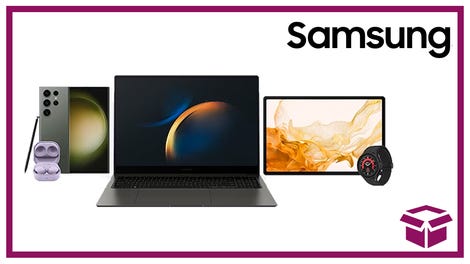 24 hour deals
Discover Samsung - Daily Deal
The first image of Mr. Bones comes from an exclusive double-sided poster that comes with Barnes & Noble's special edition of the second book in the Aftermath series, Life Debt, due out on July 12. (The flip side features a schematic of the Millennium Falcon which you can see above.) The idea of a battle droid that's a cross between Darth Maul and General Grievous, covered in bones, who hums when he kills people is chilling; thank goodness he's working for the Rebellion/New Republic/Resistance side.
Mr. Bones joins Lost Stars star Ciena Ree as another new book-exclusive Star Wars character that we've gotten a look at. Anyone you're hoping to see next?