MSI's historically been known more for their motherboards and the occasional hyperefficient netbook. But by bringing North America its first 3D Multitouch AIO PC in the AE2420 3D, the company's clearly making a statement. And it's a welcome one.
I've been able to spend a little time with the AE2420, a sizeable all-in-one that packs Core i7 guts and ATI Mobility Radeon HD5730 graphics behind a 24-inch, 1080p, 120Hz display. 4GB RAM, 1TB of storage. It's the first AIO to integrate THX Studio Pro audio, and one of the first to embrace USB 3.0. Blu-ray comes standard. Those are the specs of a machine that demands to be taken seriously.
What MSI's hanging its hat on, though, is the 3D experience. Which is extremely solid, as long as you're playing content that was originally intended to be viewed in 3D. MSI has partnered with Roxio to bring 2D-to-3D conversion for pretty much any home video or photo you throw at it, but the results are jarringly mediocre, especially when put up against the crisp, clean 3D of a 3D Blu-ray or Call of Duty: Modern Warfare.
G/O Media may get a commission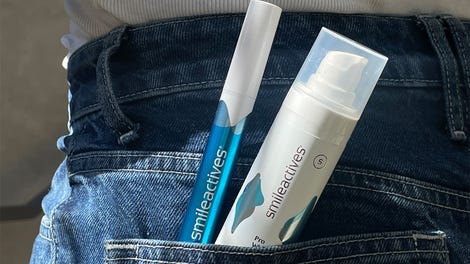 58% off
Whitening Powerhouse Pen & Gel Duo
MSI's AIO interface solution, WindTouch, is back here, and its large icons and manifold apps are easy to navigate. More importantly, it's easy to customize and turn off. My one quibble with WindTouch is that application updates aren't pushed to you; instead, you have to head to MSI's website to download them. In terms of actual use, though, the multitouch is responsive.
You can only get the AE2420 in one configuration, and it'll cost you $1800 including glasses. On the one hand, that's not an insane price for the kind of specs this thing has. On the other, it's hard to imagine using an all-in-one as your primary computer—and spending nearly two grand on a secondary machine seems a little excessive. But if you pony up a few more bucks for a TV tuner—pretty much the only thing that doesn't come standard on the AE2420—you could talk yourself into thinking it's a steal.
MSI Announces Availability of the World's First 3D
Multi-Touch All-in-One PC in North America

MSI's Wind Top AE2420 3D addresses the shortage of 3D content
with family-friendly PC that converts any 2D movie into 3D.

CITY OF INDUSTRY, Calif. – September 14, 2010 – MSI, a leading manufacturer of computer components and systems, today announced the North American availability of the Wind Top AE2420 3D, the world's first 3D touch screen all-in-one PC. Unlike 3D TVs, the Wind Top AE2420 3D addresses the current disconnect between people's interest in 3D entertainment, and the limited availability of content, as it can bring almost any 2D content – from home movies to DVD rentals and 3D Blu-Ray – to life in 3D.

The Wind Top AE2420 3D is powered by Intel® Core™ i7 processors, which have multi-tasking functionality and automatically adjusting processing frequency to meet the demands of running 3D entertainment, while also being a powerful computer for everyday use. The large 24'' full high definition (1080p) multi-touch display, flicker-free 120Hz LED panel, and exclusive wireless 3D shutter glasses provide 3D video entertainment for your whole family in your own home.

"Most people don't realize that MSI has been making the guts of PCs for more than 20 years, and we were the first to launch the 10 inch netbook, which is now the most popular form factor on the market," said Andy Tung, vice president of sales, MSI US. "By bringing the world's first 3D all-in-one PC to North America, MSI is continuing to introduce people to the future of computing."

Specific Wind Top AE2420 3D product highlights include:
• Ability to enjoy a quality 3D experience in an all-in-one PC – MSI combines all the facets of 3D technology into one family friendly entertainment PC. To reduce uncomfortable screen flicker, the Wind Top AE2420 3D has a 120Hz high scanning frequency LED back-light panel, which is twice the speed of 60Hz panels. Inside the unit, MSI uses precise imaging technology to create 3D visual effects similar to how the human eye views images. Plus the Wind Top AE2420 3D comes with rechargeable wireless active shutter 3D glasses that further enhance the experience with a high contrast ratio and two millisecond response time.

• Create and enjoy 3D content – MSI addresses the shortage of 3D movies with technology that converts 2D content to 3D. The Wind Top AE2420 3D is also the world's first multi-touch AIO that's capable of running 3D games, and showing 3D photos and videos taken with the new 3D cameras on the market. Plus, it provides 3D graphics performance with the ATI® Mobility Radeon® HD5730 discrete graphics chip that supports DireX 11. This high performance discrete GPU displays smooth, clear 3D images with extraordinary layers of color.

• Blazing fast transfer speeds with USB 3.0 – The Wind Top AE2420 3D is the first all-in-one PC in the world to feature USB 3.0 technology, which supports transfer rates up to ten times faster than traditional USB 2.0. This means that you can transfer high-definition data including movies, videos, and other large file formats – faster and easier than before – so you can enjoy the experience with minimal interruptions.

• Powerful surround sound audio capabilities – The Wind Top AE2420 3D delivers authentic 2.1 channel surround sound via two hi-fi five-watt channel speakers and a ten-watt subwoofer powered by MSI Premium Sound Technology. And with its Hollywood grade THX TruStudio Pro™ technology, you can enhance sound performance to 7.1 surround sound for pure, clear tone quality, extreme sound layering, and powerful vibrations for a theater-like experience.

The Wind Top AE2420 3D all-in-one PC is priced starting at $1,799. It will be available online at MWAVE.com, NEWEGG.com, TigerDirect.com and Amazon.com; and at retail stores in the U.S. including J&R Computers and Music and B&H Photo and Video, and in Canada at Canada Computer and Groupe Sonxplus starting on September 20. For more information and full specifications, please visit http://us.msi.com/WindTop/3DAE2420.