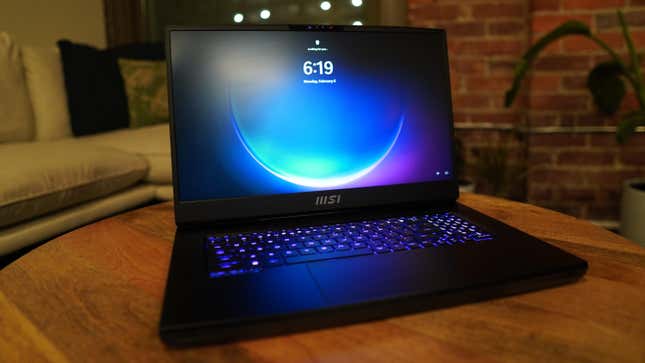 Getting hands-on time with the MSI Titan GT77 HX sounds like a fun time in its own right, but the secret sauce behind this specific model that's set to hit shelves in just a few days is the 13th Gen Intel Core i9 processor humming under the hood. Intel's new 13 Gen HX series chips are billed as powerhouse mobile CPUs, capable of tackling the most demanding tasks with ease. They pack 8 high-performance cores and 16 efficiency cores, making them perfect for multitasking and resource-hungry games and content creation software.

Chat GPT-4 Worth the Upgrade? | Future Tech
Our unit came equipped with the Intel Core i9-13950HX, which to be transparent, is different from what will ship in the retail version of the top-specced Titan MSI GT77 Titan HX. The final retail version will come packed with the slightly more powerful 13980HX. The 13950HX is still as smart as it is powerful, though, thanks to its 24 cores and 32 threads. It can adjust power between the CPU and third-party graphics cards to keep things running cool and deliver top-notch speed. For those of you looking to get even more out of your CPU, Intel boasts a max boost clock speed of up to 5.5 GHz.
The MSI website currently offers three versions of the GT77 HX, with prices ranging from $4,300 to $5,300. Our review unit featured an Nvidia 4090 graphics card and that Intel Core i9-13950HX CPU, along with an impressive 4 TB of storage and 64 GB of DDR5 RAM. This laptop should be considered a high-performance desktop replacement, but it is likely overkill for the majority of users, not intended for the faint of heart or light of wallet.
The MSI Titan sports a robust and tank-like design, constructed with a combination of both plastic and metal materials, weighing in at 7.28 pounds. The metal finish is prominent in key areas such as the outer lid and inner deck, providing a solid and stable typing experience with no flex in the keyboard. The mix of plastic and metal finishes continues throughout the substantial vents on the back of the Titan, which has additional RGB accents, adding to its gamer aesthetic. These design choices highlight MSI's commitment to bombast, as they utilize every surface in a functional and visually appealing manner.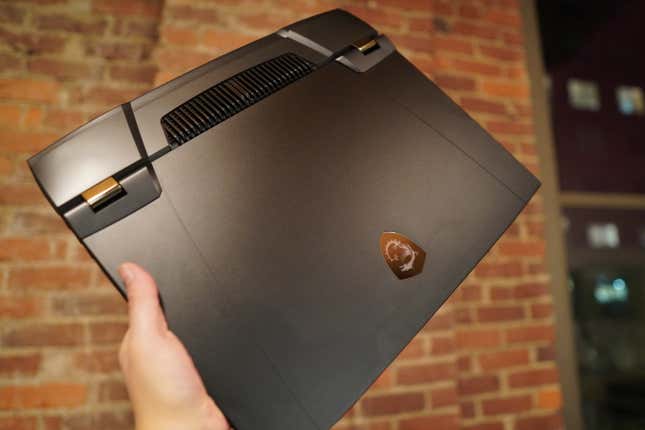 Speaking of that ventilation system, it would be ideal if some of the input/output (IO) ports were positioned at the rear of the unit. This would help minimize desk clutter by having ports such as the ethernet, charging, and display ports located at the back. The available inputs on either side of the Titan include two Thunderbolt 4 ports, Mini DisplayPort, HDMI, Ethernet, and three USB 3.2 Gen 2 Type-A ports. The laptop boasts the typical 3.5mm audio combo jack, but also comes with an SD card reader on top of that, which should be useful for creators..

With all the power packed into the GT77, it's no surprise that the laptop needs some serious cooling. With just a quick peek, you'll spot four fans on the back half of the laptop, blowing hot air out the rear exhaust like it's no big deal. MSI went all out with its cooling setup - the Titan GT 77 HX has got 4 fans, 8 pipes, and 6 exhausts. I noticed that the fans could be a bit distracting when gaming or watching media at lower volume levels, but once they revved up, the fan noise remained pretty stable. Just keep in mind that our unit was a pre-production model, so the final version might have some extra fan tuning before it hits store shelves.
While this feels more like a desktop replacement than a typical laptop - it's actually pretty comfortable to use on your lap. Its hefty build and size offer a stable experience thanks to its solid hinge, which keeps the display wobble-free even when you're typing away or dominating your opponents. It also doesn't get uncomfortably hot on your lap, with the cooling system keeping that exhaust off your legs. So even though it may not be the most portable device, it still makes for a great laptop.
MSI Titan GT77 HX Gaming and Productivity Performance
The Titan may be a big guy with a mighty cooling system, but its gaming chops justify that weight and size. We put it to the test with Cyberpunk 2077 at full throttle, cranking the graphics to max and even pushing them to "psycho" levels at 4K. We also threw a fair amount of mods into the mix to reach even higher graphic fidelity and still had a stable playing experience, living up to the "Total Dominance" tagline. The mods did unfortunately crash my save before I had a chance to note my fps (the true Cyberpunk 2077 experience), but I was satisfied with the laptop's power.
For a more technical look at the performance you can expect from this laptop, in our Geekbench testing, the Titan scored 2,045 in single-core results and 20,403 in multi-core ones. The 13th-gen Intel-powered beast tackled a BMW in Blender in 1:17, while processing a 6.3 gig 6K video file in handbrake in just 2:44. The Titan was no pushover in gaming benchmarks either, averaging 94 fps at 4K.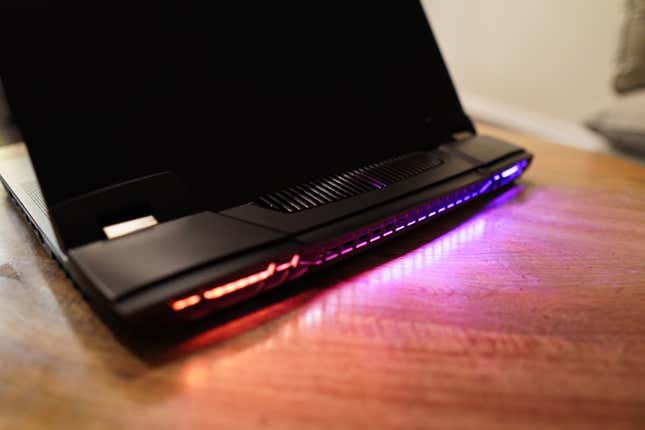 In Civilization VI, we saw 8.13 ms to render a frame at 4K, as well as an average AI turn time of 6.63 seconds at 4K. In our Far Cry 5 benchmarking, the average frames per second were 120 with a peak of 160 at 1080p on high settings, while the average frame rate was 111 with a maximum of 136 at 4K high settings. Next up, we ran the Titan through the Metro Exodus benchmark, where it recorded a maximum of 175 frames per second and an average of 105 frames per second at 1080p on high settings. And finally, we ran the GT77 through the Shadow of the Tomb Raider benchmark at the highest graphics settings, first at 1080p and then at 4K. Our review unit hit an average of 134 frames and 93 frames, respectively.

Tell me about that screen
The screen on the Titan is a standout feature. With a 4K display that goes up to 144Hz and up to 1000 nits, the brightness, and responsiveness are amazing. Streaming 4K content is truly enjoyable with rich details. Viewing angles weren't as standout as some of the rest of the laptop's features, but were still good enough. It has multiple color profiles and covers 100% of the DCI-P3 color space. Plus, with the Windows Hello ready camera above the display, logging in is super easy and the built-in privacy shade is an added bonus.
With the surprise hit Hi-Fi Rush hitting Game Pass during our review period, we couldn't pass up the unique opportunity to put the display, graphics, and audio hardware to the test. The vibrant color palette, bold art style, and fast-paced rhythm-based gameplay of Hi-Fi Rush were superbly displayed on the Titan. The large speakers located near the keyboard delivered clear sound without any tinny quality, even at elevated volumes. With twin speakers flanking the keyboard as well as two downward-firing woofers, intense gaming sessions were a feast for the eyes and ears. At high graphics settings, the gameplay remained consistently between 120-140 fps.
How are the inputs?
The keyboard deck features exceptional sturdiness, with little to no flex even when applying intense pressure. However, the matte metallic finish of the deck is prone to retaining fingerprints and other oil-based residues. Despite that, the deck still exudes a premium feel and remains cool to the touch for the most part. Additionally, the trackpad is of high quality and the size is great. Even though it's spacious, built-in palm rejection prevents any accidental cursor movement while typing away. As an added bonus, there is a snappy fingerprint scanner that offers a quick and reliable biometric authorization solution.
We were extremely happy with the typing experience on the GT77, with a full number pad, media keys, and a function row all present and accounted for. The Cherry MX Ultra Low Profile key switches have a tactile feel, although some users may prefer different switches. Typing quickly or with a heavy hand can result in keyboard ping. If you do drag this behemoth to your local coffee shop, you might distract a few of your fellow writers, but hammering away long-form documents (this review included) was a delight.
He's Dead, Jim
MSI tried its best to keep this mammoth juiced up with a 99.9-watt-hour battery, but a system this stacked is bound to burn through its battery pretty quickly, as most gaming-focused laptops do. We managed to get almost 2 and a half hours of light work away from an outlet, consisting of editing google docs, some YouTube and/or Spotify in the background, and other light tasks. This was with all the system's RGB still on, and a slightly lowered screen brightness.
For gamers on the go, we got just over an hour and a half away from an outlet. That time was split between games like Cult of Lamb, Need for Speed Unbound, and Civilization VI. Titles like Cult of Lamb and Civ performed extremely well, without any concessions made in the graphics department. NFS Unbound, however, pushed the unit to its limits when away from a power source, requiring a drop in resolution and graphics quality to maintain a steady framerate. Most gaming laptop enthusiasts will already know the blow performance can take when unplugged, and the Titan didn't disappoint, but was pretty par for the course, meeting our expectations.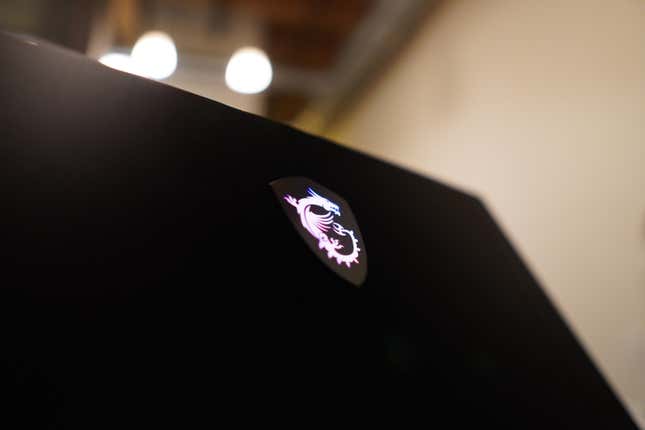 If you're looking for a laptop that's easy to carry around, this isn't it. If you're looking for a solution that can hold its own at a desk as well as when away from a power source, you might be let down. It's definitely a desktop replacement first and foremost; with its beefy specs, it can handle pretty much any gaming, media consumption, and content creation needs. The build is sturdy, the hardware inside is just as reliable, and the performance is top-notch. The price you pay for this kind of power may be a bit jarring, but if you've got the space and the budget, it's definitely a solid option.
For a cheaper, more casual gaming laptop, consider the HP Victus 15.