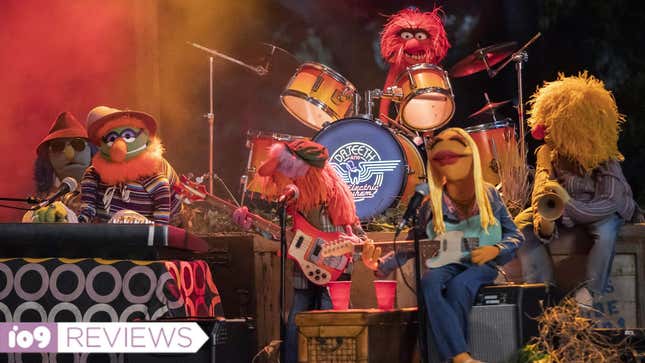 Nearly five decades after The Muppet Show debuted, The Muppets Mayhem—a new 10-episode Disney+ series—aims to flesh out those intriguing weirdos who've provided so much of the Muppets' all-important music over the years: Dr. Teeth, Janice, Floyd, Zoot, Lips, and Animal, together known as the Electric Mayhem. The show's not without its flaws, but it achieves its main goal of having fun.
Chris Pratt and Bryce Dallas Howard Nerd Out About Jurassic Park's Returning Heroes
That's also the goal of the band when we meet them, playing "Can You Picture That?" from 1979's The Muppets Movie along with other songs plucked from rock history (Kiss' "Rock and Roll All Nite" is a recurring jam) for enthusiastic crowds—a fan base they've built up thanks to being on "the longest-running tour in history." When ambitious wannabe exec Nora (Lilly Singh) realizes the label she's working for (a fading enterprise run by its Muppet owner, Penny) once signed the Electric Mayhem to a deal that failed to produce an album, she thinks she's discovered a surefire way to elevate her career. But corralling the free-wheeling musicians and getting them to write and record new material proves a daunting task. Hey, "mayhem" is right there in the name—and it isn't all Animal who supplies the chaos. (He's responsible for a lot of it, though, of course.)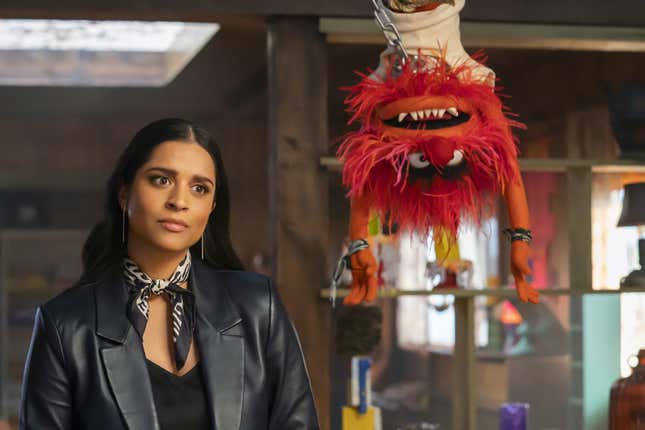 The most delightful part of The Muppets Mayhem is getting to know these lovable misfits beyond their usual brief background appearances; without Kermit, Miss Piggy, Gonzo, or other more famous Muppets around to drive the plot, we finally learn Animal's surprising backstory and hidden talents, delve into Janice's hippie point of view, and discover the reason why Dr. Teeth is named Dr. Teeth, among other revelations. Even the less dynamic characters (sorry, Zoot and Lips) get a bit more depth, even though they're mostly around for comic relief.
Less fascinating, but necessary to bring some shape to the Mayhem's rock n' roll circus, are the human characters. In addition to Nora, there's her younger sister, Hannah (Saara Chaudry), a popular influencer; Nora's ex-flame, JJ (Anders Holm), who hopes to woo Nora back with the slick new image he's cultivated to go with his successful music app; and the affable Moog (Tahj Mowery), the Mayhem's number-one fan (and, once he meets her, Nora's number-one fan too). The Muppets Mayhem was under no obligation to make these people anything more than cardboard cut-outs to react to whatever the Muppets are up to, but everybody gets an arc and an emotional moment or two—nearly enough to forgive the show for leaning into that obvious love triangle.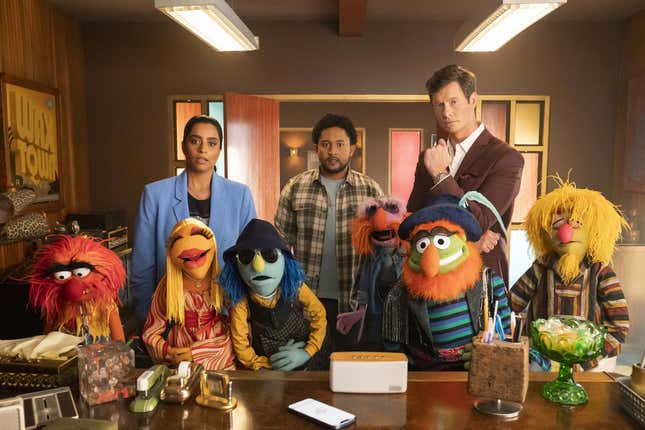 Instead of "episodes," the series has "tracks" named after famous songs, and The Muppets Mayhem pads out its predictable plot (sure, there are obstacles galore—but whether the Electric Mayhem will end up finishing their album and playing their big showcase is never in doubt) with plenty of nostalgic tunes, and there are also a bunch of new songs to go with all the familiar covers. Less charming, however, is the show's gleeful embrace of celebrity cameos. It's long been a Muppets tradition to sprinkle casts with guest stars, but The Muppets Mayhem just might set a new record with its generation-spanning array of famous faces. Without spoiling any specific appearances, let's just say only some of these drop-ins are clever and effective. Some just feel kinda distracting or unnecessary. (Some I had to look up to see who they were, because I'm about the same age as The Muppet Show.)
Similarly hit-or-miss are the series' attempts to mine humor from the Electric Mayhem's stumbling embrace of the modern world, with a special emphasis on the impact social media has on their lives. "Tech addiction bad" is an obvious lesson and also a pathway to cringe-worthy scenes like Animal becoming a reluctant TikTok star; that said, Dr. Teeth's failure to understand autocorrect leads to one of the series' funniest moments. Overall, though, The Muppets Mayhem is most effective when it's exploring age-old Muppet themes, especially the importance of honesty, believing in yourself, and facing life's many speed bumps with the support of those who know and love you the most.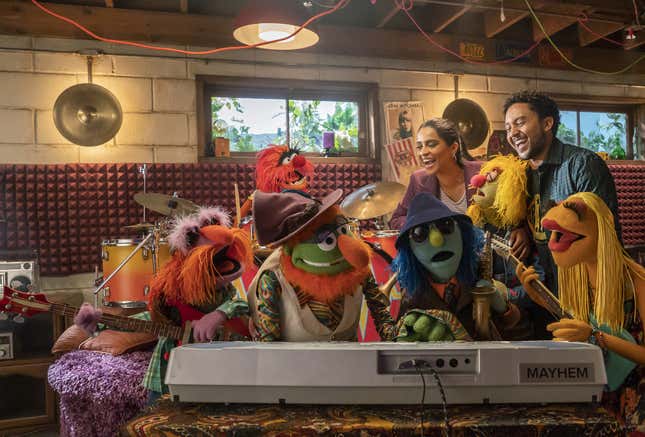 This review cannot end without noting this may be the first and only Muppets property to feature a drug trip sequence (veiled in innocence for Disney's benefit, of course) as well as multiple 420 jokes—so rest assured there is fer sure a bit of psychedelic mischief running just below the surface.
The Muppets Mayhem hits Disney+ on May 10.
---
Want more io9 news? Check out when to expect the latest Marvel, Star Wars, and Star Trek releases, what's next for the DC Universe on film and TV, and everything you need to know about the future of Doctor Who.