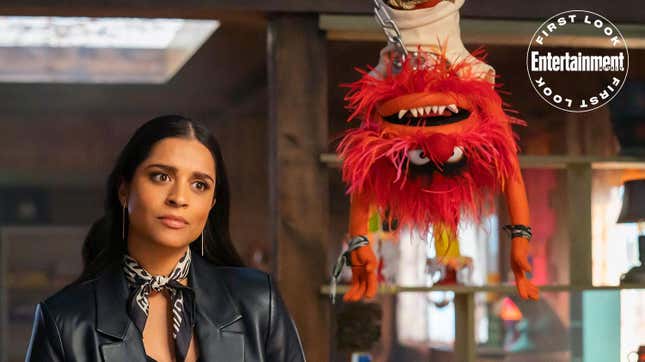 Kermit will always be top Muppet, but Disney+ series The Muppets Mayhem will shine a spotlight on the no-less-beloved members of the Electric Mayhem—the groovy house band on The Muppet Show. A new interview with the show's co-creators gives us a good idea of what to expect from the series (although, alas, when it'll arrive is still a mystery).
Chris Pratt and Bryce Dallas Howard Nerd Out About Jurassic Park's Returning Heroes
As we already knew, the show will follow funky five-piece Dr. Teeth, Animal, Floyd, Janis, Lips, and Zoot as they record their first album, with the help of human characters played by Lilly Singh (as Nora, an aspiring record producer), Saara Chaudry (as Nora's sister, a social media influencer), and Tahj Mowery (as the Elecric Mayhem's #1 fan). Speaking to Entertainment Weekly (check out the full interview piece to see more photos!), co-creators Bill Barretta, Jeff Yorkes, and Adam F. Goldberg reflected on how the show will be different from Muppets shows and movies that've come before.
"We're telling a very small story about this band and where they've been and where they're going. It is about the band and not the tone of a variety show," Goldberg said. Yorkes pointed out that there's more freedom when working with characters who might not be quite as well-known as Kermit, Gonzo, Miss Piggy, and so on: "People recognize them, but we have the freedom to fill out their backstory and do whatever we want."
Of course, there will be music liberally sprinkled throughout The Muppets Mayhem's 10 episodes—classic rock covers as well as original tunes. (No word yet if any vintage Electric Mayhem tracks will be making the cut, but The Muppet Movie's "Can You Picture That?" still rips after nearly 50 years.) "The conceit of the show is bringing this old school band to the modern age and way of making music. That's the comedy of it. They're a group of characters that have no real goals or ambitions," Yorkes said. "Whatever you want to do, they roll with it."
As Barretta notes, that's where some of the show's conflict will come in. "They want to remain true to themselves, but they don't want to leave anybody out. How do you find that balance? That's every musician or artist's struggle—they would love everybody to love them. What's fun about this band is we like to take the creative approach that they can play just about anything. That allows us to dip ourselves into different types of music and be silly and have fun with it."
We are fer sure—to quote the Electric Mayhem's guitarist, Janis—ready to have fun with The Muppets Mayhem, which should be coming very soon to Disney+.
Correction: An earlier version of this post neglected to mention Electric Mayhem member Lips, the band's trumpet player. io9 regrets the error.
---
Want more io9 news? Check out when to expect the latest Marvel, Star Wars, and Star Trek releases, what's next for the DC Universe on film and TV, and everything you need to know about the future of Doctor Who.