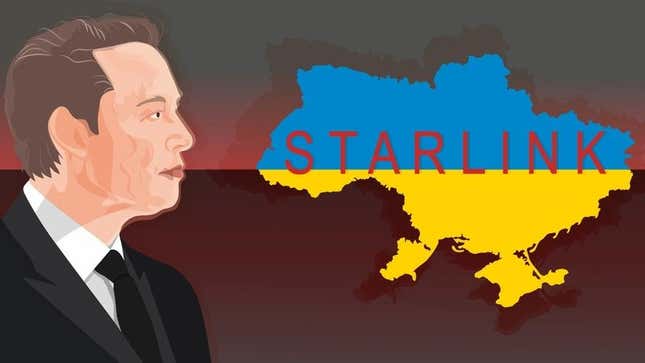 Starlink CEO Elon Musk reportedly worried about his role in the Ukraine War, prompting him to shut down the satellite communications network near Crimea last year, according to an excerpt from a biography written by Walter Isaacson, titled Elon Musk. In the biography, Isaacson reports that Musk ordered engineers to turn off the satellites to avoid a "mini Pearl Harbor" as Ukraine planned an attack on Russia.
Is Threads a Threat to Twitter? | Future Tech
Isaacson wrote in his book, which is set to be released by Simon and Schuster next week, that the day Musk disconnected the satellites, Ukraine was directing submarine drones to attack the Russian fleet off the coast of Crimea. But following Musk's actions, the drones "lost connectivity and washed ashore harmlessly."
Musk told Isaacson he based his decision to shut down the satellites on a conversation with senior Russian officials, according to the excerpt from Isaacson's book, CNN reported. At the time, Musk spoke at a conference in Aspen, appearing to support Russian President Vladimir Putin. "He was onstage, and he said, 'We should be negotiating. Putin wants peace—we should be negotiating peace with Putin,'" Reid Hoffman, who helped start PayPal with Musk told The New Yorker last month.
Musk claimed he feared Russia would launch nuclear weapons if Ukraine successfully attacked Crimea. "How am I in this war? Starlink was not meant to be involved in wars," Musk said, according to Isaacson's book. He continued: "It was so people can watch Netflix and chill and get online for school and do good peaceful things, not drone strikes."
Deputy Prime Minister of Ukraine, Mykhailo Fedorov, reportedly urged Musk to re-activate the satellites, telling him in a text message about Starlink's capabilities. "I just want you—the person who is changing the world through technology—to know this," he said, according to Isaacson's biography. But Musk argued that he wouldn't turn the Crimea-based satellites back on because Ukraine "is now going too far and inviting strategic defeat."
Musk supplied roughly 5,000 Starlink terminals to Ukraine shortly after Russia invaded the country in February of 2022 which became critical to the country's ongoing efforts, but voiced concerns that by providing the terminals, Russia would see it as a direct attack. In October last year, Musk requested the U.S. government pay for the terminals in Ukraine or he would shut them down.
"My inference was that he was getting nervous that Starlink's involvement was increasingly seen in Russia as enabling the Ukrainian war effort, and was looking for a way to placate Russian concerns," Colin Kahl, a former U.S. under-secretary of defense for policy, told the New Yorker, speaking about the call with Musk.
The U.S. and European governments were finally able to negotiate a deal with Musk earlier this year, paying for another 100,000 Starlink satellite dishes to be sent to Ukraine. It's unknown whether Musk has reconsidered his fears over nuclear war after receiving such a large bulk order.