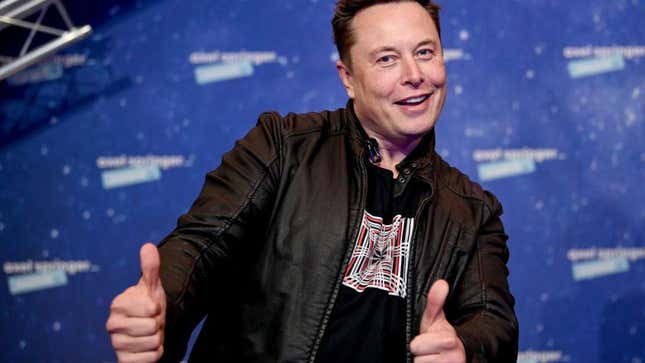 Renowned journalist and author Walter Isaacson announced in a Twitter post on Thursday that his new Elon Musk biography is on the horizon. Isaacson has chronicled the lives of geniuses like Steve Jobs, Jennifer Doudna, Leonardo da Vinci, Benjamin Franklin, and Albert Einstein, but over the last two years, he has shadowed Musk in the hopes of writing yet another bestseller.
NPR Is Going Dark on Twitter | Future Tech
The book detailing the rise and fall(?) of Musk is currently available for preorder through the Simon and Schuster website, and while it won't officially be available until September 12, the publishing house provides details on how Isaacson brings the reader into Musk's childhood in South Africa. The description paints Musk in a light that might make readers feel sorry for him—if they didn't know who he would grow up to become. Musk was attacked by bullies daily, the description says, specifying, "One day a group pushed him down some concrete steps and kicked him until his face was a swollen ball of flesh. He was in the hospital for a week. But the physical scars were minor compared to the emotional ones inflicted by his father, an engineer, rogue, and charismatic fantasist."
Some might question why Musk, who has made headlines since taking over Twitter for requiring employees to work long and grueling hours, allowing misinformation to flourish on the social media app, and reprimanding anyone who dared to disagree with him, should get a hagiographic biography written about him. For Isaacson, it was because "he is the most interesting person around today," he said in a New York Magazine interview.
Isaacson agreed to write the biography in 2021 which Musk quickly announced to the public, prompting a two-year project that Isaacson says depicts "the best story in America….a straight narrative." He told the outlet, "I think I've had more access than anybody we know to the most interesting person possible. I've had more access than anybody's ever had to a biography subject."
Simon & Schuster's press release calls Musk "a tough yet vulnerable man-child, prone to abrupt Jekyll-and-Hyde mood swings, with an exceedingly high tolerance for risk, a craving for drama, an epic sense of mission, and a maniacal intensity that was callous and at times destructive." This is perhaps closest to the truth if we read between the lines of Isaacson's complimentary musings about a man who receives continued criticism for his role in driving Twitter into the ground.
The book allegedly questions if Musk's past demons drive him toward innovation and progress as he scatters his focus between SpaceX, Tesla, Twitter, and daily commentary on politics and the media. Musk has been tough on his employees, choosing to let them go if they put one toe out of line.
In June of last year, Musk laid off SpaceX workers who posted an open letter online that said, "Elon's behavior in the public sphere is a frequent source of distraction and embarrassment for us, particularly in recent weeks," The New York Times reported. The letter continued, "As our CEO and most prominent spokesperson, Elon is seen as the face of SpaceX — every tweet that Elon sends is a de facto public statement by the company." Reuters later reported that at least five employees had been fired in retaliation.
Then, in November, Musk fired roughly 20 Twitter employees who criticized him in a Slack channel after he took over the company. In a layoff email, Musk told them "Your recent behavior has violated company policy." One of the former employees responded in a tweet, writing, "lol just got fired for shitposting. I said it before and I'll say it again. kiss my ass Elon."
Isaacson himself became part of the narrative in April when Musk decided to stop labeling various publishers as state-affiliated media. "This was Walter Isaacson's suggestion," Musk told NPR.
Despite the barrage of criticism and anger Musk has evoked, particularly in the timeframe since Isaacson decided to write the biography, the author defends Musk's lack of emotion or empathy in the workplace, saying he is uncompromising when it comes to making his grand vision a reality.
"That ability to not be as emotionally, empathetically engaged in order to see [their] vision through. It's something Steve Jobs had, it's something Bill Gates [has]," Isaacson told CNBC. He added, "It's something a lot of these people have, because they're not looking for affection from the person sitting across from them. They're looking to get rockets to Mars."