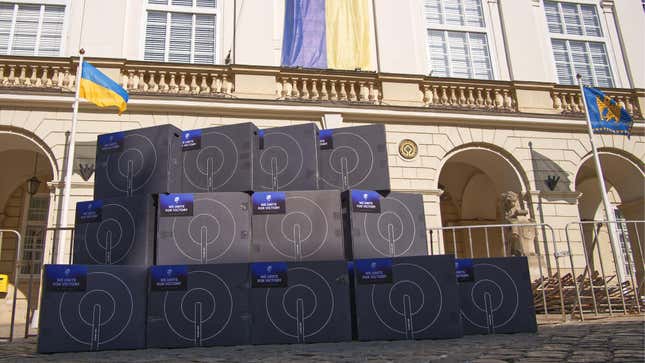 "Free speech absolutist" Elon Musk's Twitter algorithm is paying particular attention to the ongoing war in Ukraine. According to an analysis of the Twitter source code, the site makes specific mention of Twitter Spaces that reference the "Ukraine Crisis." Though it remains unclear how Twitter policies speech about Ukraine in posts, the platform's specific mention of Ukraine follows Musk's previous statements he fears any escalation of the conflict would bring about "WWIII."
Twitter Investor Sues Elon Musk Over Sneaky Stock Purchases
Over the weekend, Aakash Gupta, a product manager who has worked at major tech firms including Google and Epic Games, posted a lengthy dive into the Twitter recommendation source code. Twitter owner Musk had published the code late last week, though only after parts of the codebase had been leaked onto GitHub.
Late on Monday, Gupta told Gizmodo that "upon further investigation" he and his fellows looking into the Twitter code found that it only applies to Twitter Spaces, the platform's live meeting feature. It remains unclear how exactly Twitter moderates Spaces, though the site does say all users and hosts have to follow Twitters' policies about the title of the chat.
Before he published the code, Musk tweeted that even his own team does not fully understand the Twitter algorithms, and that "people will discover many silly things, but we'll patch issues as soon as they're found." Still, the line of code that seems to specifically target the war in Ukraine is the highly specific compared to broad categories of "HighToxicity," "Violence," "Misleading," or "Hateful" content.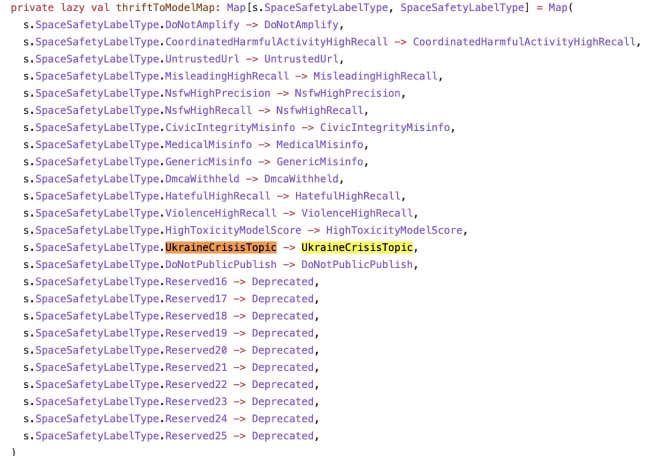 It's at this point we would reach out to Twitter for comment, but Musk made the Twitter media account automatically respond with a "poop" emoji. We tweeted at Musk for comment about the source code findings, but of course we'd be lucky if dear Musk decides to respond.
It's unclear when the exception for Ukraine was added. The most charitable explanation for downplaying talks on Ukraine is the number of Russia-aligned bots and accounts trying to spread misinformation about the ongoing conflict. NBC News has previously published a database of 200,000 tweets Twitter tied to Russia-linked accounts, though most of these were banned before the start of the war in early 2022. Then again, there are a number of official Russian accounts also actively trying to control the invasion narrative. Before Musk came on board, Twitter modified its misinformation policy to specifically target "demonstrably false" posts about the war in Ukraine and other global crises.
Gupta wrote that according to an unnamed Twitter engineer, what's listed on GitHub is only 20% of the actual Twitter code. Most of what's contained in the release are "readme" files summarizing the code. In that way, it's hard to run actual tests to see how a Ukraine post would do on a dummy version of the site.
Musk has routinely shared his fears about the war in Ukraine spilling out into a "WWIII" scenario. The Twitter owner has had to justify himself as to why he was trying to restrict military access to the Starlink commercial terminals through his company SpaceX. Musk has supported the country during the ongoing Russian invasion through the Starlink satellite network (thanks to hefty financial backing from the U.S. government).
In October last year, shortly before taking over the platform, Musk tweeted a poll about attaining a "Ukraine-Russia Peace" by giving several concessions to Russia. These concessions included making Crimea a permanent part of Russia and forcing Ukraine to remain "neutral," likely referring to the country's stated ambition to join NATO. Musk was heavily criticized by both western and Ukrainian leadership for the tweet. Ian Bremer, a founder of the political risk consulting firm Eurasia Group, alleged that Musk wrote this tweet after speaking with Russian President Vladamir Putin. Musk has denied that claim.
Update 04/04/23 at 8:46 a.m. ET: This post was updated to include a response from Aakash Gupta about how the data seems to only relate to Twitter Spaces. A previous version of this story talked broadly about the scope of Twitter's downranking.