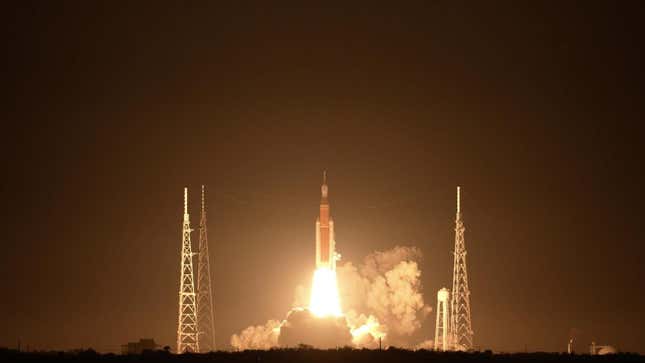 NASA's new lunar program is in full swing, thanks to the successful launch and return of the Artemis 1 mission in late 2022. Physics researchers recently determined that the roar of the Space Launch System megarocket was louder than anticipated—but not so loud as the NASA launch that sparked an urban legend.

NASA officially kicked off the Artemis program with the launch of the 5.75-million-pound Space Launch System from Kennedy Space Center in Florida on November 16. In a new study, scientists crunched the numbers and figured out just how loud the launch of NASA's SLS megarocket was. At roughly a mile from the launch pad, the maximum noise level reached 136 decibels—about the same level of sound as a jet engine from 100 yards. The team's work is published today in JASA Express Letters.
"We hope these early results will help prevent the spread of possible misinformation, as happened with the Saturn 5," lead author Kent Gee, associate professor of physics at Brigham Young University, said in a press release from the American Institute of Physics. "Numerous websites and discussion forums suggested sound levels that were far too high, with inaccurate reports of the Saturn 5's sound waves melting concrete and causing grass fires."
Following the launch of NASA's Saturn V rocket from Kennedy Space Center in November 1967, which generated 7.6 million pounds of thrust, a myth began circulating that the launch was so loud that it melted concrete and lit grass on fire over a mile away. Scientists led by Gee debunked that rumor in a paper published last year, by modeling the launch and calculating that the liftoff of the Saturn V likely saw a sound level reaching an estimated 203 decibels. For Artemis 1, NASA used a sound-suppression system that involved dumping 450,000 gallons of water onto the mobile launcher just before the rocket's engines fired.
Ahead of the Artemis 1 launch, the research team placed microphones at various distances from the launch pad, from 0.9 miles (1.5 kilometers) to 3.2 miles (5.2 kilometers). Naturally, the sound level dropped the farther the microphone was from the pad, but the authors say that the noise of liftoff exceeded prior estimates at all five recording stations. For example, the 3.2-mile station recorded sound peaking at 129 decibels, approximately 20 decibels over the estimate made with pre-launch noise models.
"This suggests a need to revisit and probably revise those models," author Grant Hart said in a release from the American Institute of Physics. Hart is an associate professor of physics at Brigham Young University.
The SLS was powerful enough to damage the launchpad. Scorch marks, missing paint, and destroyed cameras littered the site, while the liftoff's shockwave ripped off the tower's elevator doors.
More: A Second Russian Spacecraft Has Sprung a Leak at the ISS