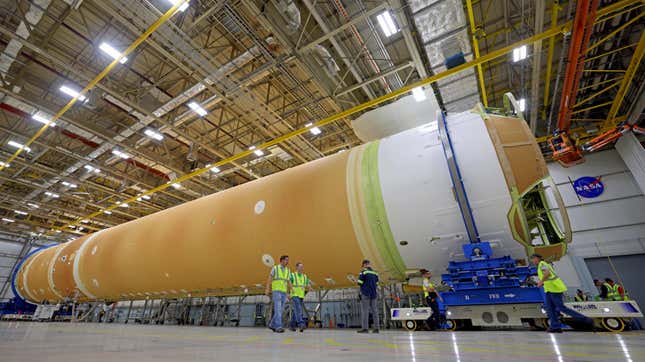 NASA's Space Launch System (SLS) megarocket is being readied in anticipation of the Artemis 2 mission, with engineers putting the rocket together at a facility in New Orleans.
China's Plan to Land Astronauts on the Moon
All five of the core stage's major structures have been put together, NASA revealed on Monday. The space agency's team of engineers at the Michoud Assembly Facility in New Orleans connected the engine section to the rocket stage on Friday and are now preparing to attach its four RS-25 engines to complete the stage, according to NASA.
"Located at the bottom of the 212-foot-tall core stage, the engine section is the most complex and intricate part of the rocket stage, helping to power Artemis missions to the Moon," the space agency wrote in its statement. The engine section not only holds the engines themselves, but also includes the system that delivers the fuel from the propellant tank to the engines. It connects the RS-25 engines with the two solid rocket boosters, producing a combined 8.8 million pounds of thrust during the rocket's launch, according to NASA.
The SLS rocket took off for the first time in November 2022 as part of the Artemis 1 mission, kicking off NASA's lunar program. Artemis 1 saw the first integration of SLS with the Orion capsule, with the capsule traveling to the Moon and back. However, Artemis 1 did not have a crew on board. Its successor mission, on the other hand, will carry astronauts on board. Artemis 2 is currently slated for a November 2024 launch, escorting a crew of astronauts to a trip to the Moon and back without actually landing on the lunar surface (that's the job of Artemis 3).
NASA's Artemis 1 mission was largely a success, although it took a while for SLS to get off the ground. The rocket's debut suffered multiple delays that pushed its inaugural liftoff by nearly three months, as the ground teams struggled to resolve hydrogen leaks prior to launch.When it did finally launch, however, SLS became the most powerful operational rocket in the world and the most powerful rocket ever built.
Hopefully, engineering teams will have finessed the rocket's tanking operations ahead of the Artemis 2 launch.
For more spaceflight in your life, follow us on Twitter and bookmark Gizmodo's dedicated Spaceflight page.