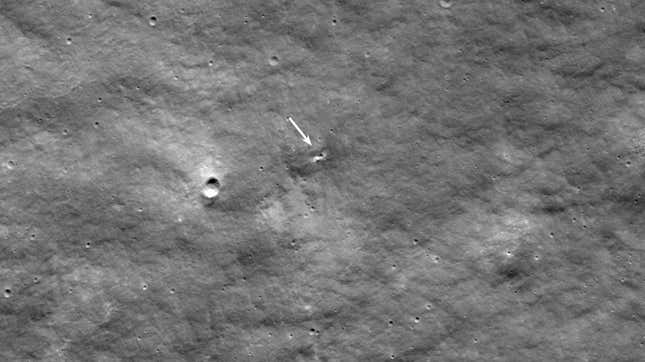 NASA's trusty Lunar Reconnaissance Orbiter (LRO) has captured images revealing a fresh crater on the Moon's surface. This crater is suspected to be the impact site of the ill-fated Luna 25 mission, Russia's first lunar attempt in nearly five decades.

China's Plan to Land Astronauts on the Moon
The descent of the Luna 25 lander began on Saturday, August 19, but the mission went sour, with the vehicle crashing into the southwest rim of the Pontécoulant G crater. The crash was recorded at 7:58 a.m. ET on August 21. As noted in a NASA statement released earlier today, the newly formed crater spans about 32.8 feet (10 meters) in width, as confirmed by LROC imagery.
The LRO's prior image of the same location was taken back on June 27, 2022, which means the newly spotted crater had to have formed after that date; the new image, showing the crater, was taken on August 24 at 2:15 p.m. ET. Given the proximity of this new crater to Luna 25's predicted crash site, the LRO team figures that this nascent lunar feature is likely from the failed mission and not from a naturally occurring cause.
For you Moon geography nerds, the fresh crater rests at 57.865 degrees south latitude and 61.360 degrees east longitude, and approximately 1,182 feet (360 meters) below the lunar surface level. As noted, the impact occurred on the steep inner rim of the Pontécoulant G crater, veering off by roughly 248.5 miles (400 kilometers) from Luna 25's intended landing coordinates at 69.545 degrees south, 43.544 degrees east.
The Luna 25 mission, marking Russia's return to lunar exploration after 47 years, ended abruptly with a loss of communication just before its crash. In contrast, India's Chandrayaan-3 successfully landed on the Moon on August 23, making India the fourth nation to achieve this feat after the Soviet Union, the U.S., and China.
For more spaceflight in your life, follow us on Twitter and bookmark Gizmodo's dedicated Spaceflight page.