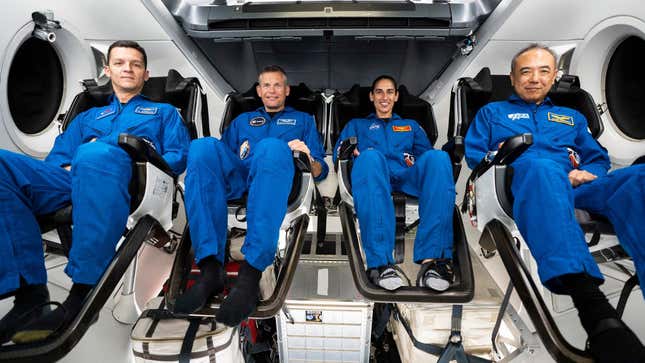 NASA is getting ready to launch the next crew of astronauts to the International Space Station (ISS) after SpaceX's Dragon spacecraft was declared a "go" for launch earlier this week.
Astronomers Could Soon Get Warnings When SpaceX Satellites Threaten Their View
Update: The launch of the Crew-7 mission has been pushed back to Saturday at 3:27 a.m. to allow for "additional time to reconfirm required factors of safety and operational margin on one of the Dragon spacecraft's environmental control and life support system (ECLSS) components," NASA wrote in an update.
Original article follows.
The space agency's SpaceX Crew-7 mission is scheduled for liftoff on Friday at 3:50 a.m. ET from Launch Complex 39A at NASA's Kennedy Space Center in Florida. As before, SpaceX's trusty Falcon 9 rocket will carry the crew capsule.
The launch will be broadcast live on NASA Television, as well as the space agency's website and app. You can also tune in to the action through the live feed below, which is set to begin late night Thursday at 11:45 p.m with pre-launch coverage.
The fully international Crew-7 is made up of NASA astronaut Jasmin Moghbeli, European Space Agency (ESA) astronaut Andreas Mogensen, Japan Aerospace Exploration Agency (JAXA) astronaut Satoshi Furukawa, and Roscosmos cosmonaut Konstantin Borisov.
The four-person crew will ride on board SpaceX's Crew Dragon spacecraft Endurance, which passed a flight readiness review on Wednesday. During a NASA briefing held on Thursday, space agency officials said that they had cleared previous concerns regarding corrosion on the isolation valves of a cargo Dragon spacecraft, which are designed to come on in case of a thruster leak. SpaceX replaced some of the valve components on Endurance, according to Steve Stich, NASA commercial crew program manager.
"Operations teams are not tracking any major issues with Falcon 9 or the Dragon spacecraft," NASA wrote in a blog post.
Endurance is set to dock with the ISS at 2:02 a.m. on Saturday, dropping off the Crew-7 members to spend around six months on board the orbital lab.
 For more spaceflight in your life, follow us on Twitter and bookmark Gizmodo's dedicated Spaceflight page.