Whether you think it's our fault or not, the simple fact of the matter is that the Earth is heating up—so much so that last summer's heat caused surface melting along an unprecedented 97 percent of the Greenland ice sheet. Now, researchers are turning to an ever-ready solar rover to survey the damage.
Dubbed the GROVER (Greenland Rover and/or Goddard Remotely Operated Vehicle for Exploration and Research), this treaded automaton was conceived and designed by students at a pair of NASA-run summer engineering bootcamps at the Goddard Space Flight Center in 2010 and 2011 as an alternative to the standard survey platforms—planes and guys on snowmobiles. It sets off today for a month-long excursion across Greenland's ice sheet to study the effects of all that surface melt refreezing.
GROVER is approximately six feet tall with its solar collection panels attached and weighs roughly 800 pounds. Interestingly, the panels are set nearly vertically—that's in order to collect light both directly from the sun as well as light reflected from the surrounding snow. Utilizing the sun's rays to drive a pair of snowmobile tracks, GROVER will tear across the country's icy expanses at a blistering 1.2 MPH (yes, that decimal point is supposed to be there). But for what the rover lacks in speed, it makes up for in endurance. Since the expedition is happening now, the GROVER has an unlimited supply of fuel—the Sun never sets on a Greenland summer day. That means it will be able to operate far longer than conventional survey methods, up to 24/7 if need be.
The GROVER will collect data on the refreeze using an integrated ground-penetrating radar array powered by a pair of separately-charged secondary batteries and wirelessly transmit it back to Summit Camp, a research station operated by the National Science Foundation, up to 4.8 km.
"GROVER is just like a spacecraft, but it has to operate on the ground," Michael Comberiate, a retired NASA engineer and manager of Goddard's Engineering Boot Camp, said. "It has to survive unattended for months in a hostile environment, with just a few commands to interrogate it and find out its status, and give it some directions for how to accommodate situations it finds itself in."
G/O Media may get a commission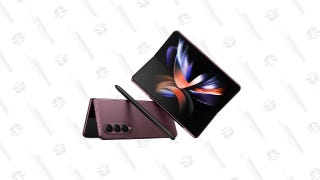 Save Up to $300
Galaxy Z Fold4
At least researchers won't have to follow the rover too far out into the frozen wastes just to swap the radar batteries. And who knows, Goddard is already working on a rover for Europa's subterranean oceans, maybe they'll need a surface rover as well.