Technological invention is a process, not an act. Even the most rudimentary technologies, like wheels, are based on previous discoveries. As such, one can trace the origins of today's most advanced machines back through history to their earliest ancestors—or one could just watch the National Geographic Channel's new five-part documentary, The Link, and skip all the research.
Deadly Mississippi Tornado Kills More Than 2 Dozen | Extreme Earth
The Link follows host, hacker, and TED-talker, Josh Klein as he investigates how the important historical inventions from the fields of art, science, medicine, and finance all work in concert to inspire today's most radical designs. For example, the screener I viewed charted a path from the advent of Chinese Bronze Long Swords to Predator drones with stops at the Silk Road, the world's first stock market, and the Anheuser-Busch brewery. Other episodes examine the connection between everything from aqueducts and oil rigs, to plows and super cars, and even between water wheels and Boeing 777s.
The series debuts tonight at 7pm E/P on the National Geographic Channel.
G/O Media may get a commission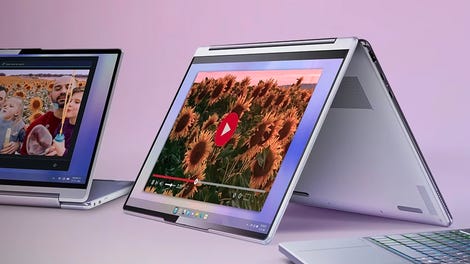 up to 70% off
Lenovo Spring Clearance
Addison, Texas: Josh Klein on the runway next to the B29 Bomber, Fifi. She's the only operational B29 Bomber in the world. (Photo Credit: © National Geographic / Lizzie Abbott)
Detroit, US: Josh Klein standing next to GM's EN-V automated car—which can drive itself. (Photo Credit: ¬© National Geographic / Lizzie Abbott)
Brookshire, Texas, USA: Josh Klein about to undergo HUET safety training, which involves being dunked into the water in a helicopter simulator and having to escape. It's essential training before going to an oil rig. (Photo Credit: © National Geographic / Lizzie Abbott)
DLR Institute of Robotics, Wessling, Germany: Josh Klein with Rollin' Justin at the DLR Institute of Robotics. The robot can catch balls thrown at him. (Photo Credit: © National Geographic / Lizzie Abbott)
Bristol, UK: Josh by the screw propeller of Brunel's ship SS Great Britain. (Photo Credit: © Lion TV / Lucy Haken)
Loudon, New Hampshire, USA: Josh about to take a spin in a two-seater Indy Car. (Photo Credit: © Lion TV / Lucy Haken)
Weald and Down Open Air Museum, Sussex, UK: Josh with a medieval heavy plough and oxen. (Photo Credit: © Lion TV / Nathan Williams)
Airkix, Milton Keynes, UK: Josh tries out indoor skydiving to feel the real power of a propeller. (Photo Credit: © Lion TV / Nathan Williams)
Sierra Vista, Arizona, USA: Josh Klein with the US Customs and Border Protection's Predator UAV. (Photo Credit: © Lion Television / Pete Chinn)
Everett, WA, USA: Josh Klein standing beside a partically complete Boeing 777 while it is under construction on the moving assembly line. (Photo Credit: © National Geographic / Piers Leigh)