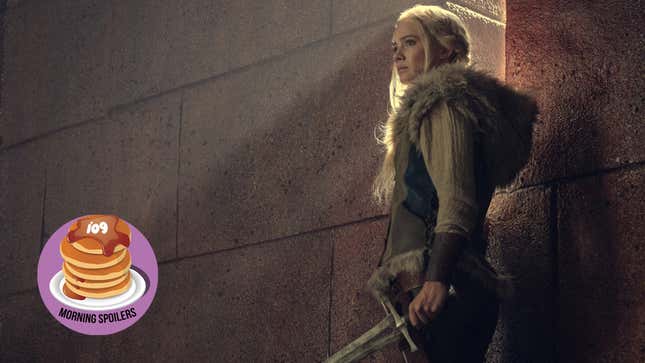 Blue Beetle director Angel Manuel Soto discusses its inspirations. Ben Wheatley talks up a monster budget for The Meg 2. Plus, a tiny new look at Disney's Percy Jackson and the Olympians, and what's coming on Riverdale and Outlander. Spoilers, away!

You Should Really Watch The Last of Us

Mission: Impossible - Dead Reckoning, Part 2
During a recent interview with Cinema Blend (via Collider), Simon Pegg suggested his character, Benjy, may not survive the events of Dead Reckoning, Part 2.
I think that's something that has always been the case but no more, sort of, clear is it in these stories that we — as I think Luther says -– we don't matter as much as the mission, and any one of us at any time could face the end. And if that happened, I'd be sad. He's been in my life for 17 years. I've watched him, been him, growing up, becoming an older and more mature agent, and it's kind of a...they live a sort of tragic life in a way.
---
Blue Beetle
In conversation with Moviemaker Magazine, Blue Beetle director Angel Manuel Soto revealed the film is heavily inspired by the 1960 magical-realist film, Macario, in which a woodcutter is visited by the Devil, God, and Death on Halloween night.
I practice a religion called Yoruba. It's an Afro-Cuban religion that has roots in Christianity, but it's mainly an African religion. It's something that I grew up with by proxy from my mother.

I love reading about science and metaphysics and spirituality. I think it's something that's super important to explore on your own. I love learning about all religions and faiths and all different denominations.

Every religion offers respite, or a solution, to the reality of death, and Blue Beetle — spoiler ahead — explores an afterlife that's astounding and moving. It is inspired in part by one of cinematographer Gabriel Figueroa's shots in the 1960 film Macario — a film I deeply love.

The magic realism of Macario stuck with me. When we were developing that scene, I was like, 'Man, why don't we pay homage to the movie that built us? Why don't we pay homage to the movie that we can say is Latin cinema?' Macario's magic realism is beautiful and it's smart like it is in Latin literature, and it's ours.
---
The Meg 2: The Trench
Ben Wheatley also stated he wanted "every dollar on screen" for The Meg 2 in a new a interview with Total Film Magazine (via /Film.)
By the time I got to The Meg, I'd done a lot of effects work, and I had an inkling of it. And because of the pandemic, I had an extra six or seven months, so I storyboarded the whole thing, every frame of it. So when we came to start it, there was a massive amount of prep that had been done. I don't like the idea of these tales of people making it up on the day. I wanted every dollar on screen.
---
The Venture Bros: Radiant is the Blood of the Baboon Heart
Brock Samson clashes with Red Death in a new clip from The Venture Bros. movie.
---
Justice League: Warworld
Batman becomes a Hollow Earth mercenary in a new clip from Justice League: Warworld.
---
Mortal Kombat Legends: Cage Match
Johnny Cage must rescue Dirty Dancing's Jennifer Grey from a doomsday cult in a new trailer for Mortal Kombat Legends: Cage Match.



---
Witchboard
We also have a teaser trailer for Chuck Russell's Witchboard remake releasing next year.
---
Quantum Leap
TV Line reports Melissa Roxburgh, Francois Arnaud, Aaron Abrams and P.J. Byrne will guest-star in the second season premiere of Quantum Leap. According to the outlet, the episode will see Ben "in the body of a man named Perez on a plane in 1978, flying somewhere over Russia. Scared, frustrated and cut off from the Quantum Leap headquarters, Ben has no choice but to proceed with the leap on his own. Perez's cohorts — played by Roxburgh, Arnaud, Abrams, and Byrne — are down-and-out members of the air force, tasked with a secret mission to transport a mystery crate to New Delhi. However, the plane is shot down by missiles before they can reach their location. Whatever is being delivered in that giant crate is extremely important, because Roxburgh's character risks her life (and Ben's) to get it off the plane before the plane explodes."
---
The Witcher
During a recent interview with Yahoo! News, co-executive producer Tomek Baginski confirmed Ciri will become the new main character of The Witcher after season three.
I think this was very exciting to do, but especially for Freya. This is also the book [Time of Contempt] where Ciri – let's be blunt about this – becomes the main character of the saga, because this is how it was done in the books, and watching Ciri evolve, and watching Freya evolve as an actress in this season, was incredible, just incredible.
---
The Continental: From the World of John Wick
Coming Soon reports the upcoming John Wick spinoff series premieres this September 22 on Peacock.
---
Percy Jackson and the Olympians
Percy Jackson News has a new look at Grover, Percy and Annabeth as they in appear in their upcoming series at Disney+.
---
Riverdale
The Archies get swept up in Cold War propaganda in the synopsis for the August 9 episode of Riverdale, "For A Better Tomorrow."
COLD WAR PARANOIA – As the gang gets swept up in Cold War paranoia, a new mystery brewing in Riverdale leads Jughead (Cole Sprouse) to suspect it may have ties to a string of suspicious murders in town. Archie (KJ Apa) reconsiders his future after Uncle Frank (guest star Ryan Robbins) gives him a hard time about his poetry writing, and a shocking discovery involving her family shakes Betty (Lili Reinhart) to her core. Camila Mendes, Madelaine Petsch, Madchen Amick, Casey Cott, Charles Melton, Vanessa Morgan and Drew Ray Tanner also star. Greg Smith directed the episode written by Ted Sullivan & Greg Murray (#718). Original airdate 8/9/2023.
---
Nancy Drew
Ryan rushes to Nancy Drew's aid in the synopsis for "The Sinner's Sacrifice," her August 9 episode at The CW.
Ryan (Riley Smith) shows up just in the nick of time to help Nancy (Kennedy McMann). Meanwhile, Nick (Tunji Kasim) is thrown by a statement George (Leah Lewis) makes. Lastly, Bess (Maddison Jaizani) is left feeling concerned after speaking with Ace (Alex Saxon). Melinda Hsu Taylor directed the episode written by Alex Taub & Leilani Terrell (#411). Original airdate 8/9/2023.
---
Outlander
Finally, Jamie goes to war in the trailer for this week's episode of Outlander.
---
Want more io9 news? Check out when to expect the latest Marvel, Star Wars, and Star Trek releases, what's next for the DC Universe on film and TV, and everything you need to know about the future of Doctor Who.