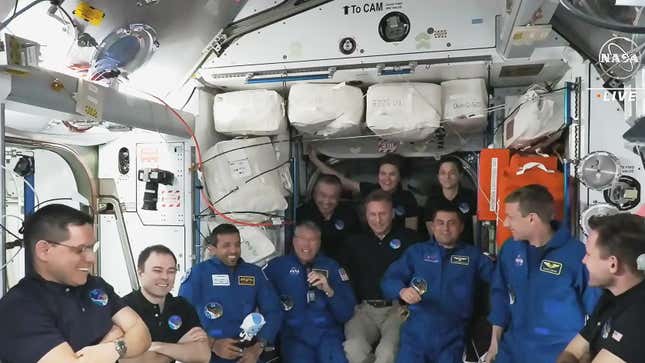 Four astronauts arrived at the International Space Station on Friday, finally crossing through the space station's hatch after ground teams troubleshooted a faulty sensor on SpaceX's Dragon capsule.
SpaceX's sixth operational crewed mission for NASA, aptly named Crew-6, blasted off on Thursday at 12:34 a.m. on board a Falcon 9 rocket. The crew was carried by SpaceX's Dragon Endeavor, which was scheduled to dock to the ISS at 12:43 a.m. ET on Friday. However, the spacecraft had a little trouble anchoring itself to the ISS.
The issue was with a faulty docking hook sensor on Dragon that wouldn't open. SpaceX ground teams "developed a software override for the faulty sensor that allowed the docking process to successfully continue," NASA wrote in a blog update. NASA and SpaceX verified that all the docking hooks were in their proper configuration and the spacecraft finally docked with the ISS Harmony module at 1:40 a.m. ET. The crew then opened the hatch between the space station and the pressurized mating adaptor at 3:45 a.m. ET, according to NASA.
NASA astronauts Stephen Bowen and Woody Hoburg, along with United Arab Emirates astronaut Sultan Al Neyadi, and Roscosmos cosmonaut Andrey Fedyaev were welcomed on board the ISS by the Expedition 68 crew members. With the addition of the new crew members, the ISS now hosts 11 astronauts on board. Crew-6 will spend six months aboard the ISS, conducting a variety of science experiments and research on the orbiting lab.
Crew-5 members NASA astronauts Nicole Mann and Josh Cassada, JAXA's Koichi Wakata, and Roscosmos cosmonaut Anna Kikina are set to return home aboard the docked SpaceX Endurance spacecraft. However, Cosmonauts Sergey Prokopyev and Dmitry Petelin, and NASA astronaut Frank Rubio, will stay aboard the ISS until September. The trio were affected by a coolant leak incident that damaged the MS-22 Soyuz spacecraft and are currently without a reliable ride back to Earth.
More: Russia Claims 'External Impact' Caused Second Spacecraft Coolant Leak at ISS