Duncan Jones talks about how he'd want to do a Warcraft sequel. Sean Gunn teases the opening of Guardians of the Galaxy Vol. 2. Ben Mendelsohn talks about the difference between Darth Vader and Director Krennic in Rogue One. Plus, new clips from Supergirl and Agents of SHIELD. Spoilers get!

Mortal Engines
Peter Jackson's adaptation of the Philip Reeve series has been set for a release on December 14, 2018. [Coming Soon]
---
Guardians of the Galaxy Vol. 2
Sean Gunn sets up how the film opens—and seemingly how Yondu might find himself out of favor with his fellow Ravagers.
When the movie starts, it's only a couple of months after the first movie. The Ravagers have not gone hard after Peter Quill after he double crossed them with the Infinity Stone.

There's a little rumbling amongst the Ravagers, like, 'Where does Yondu's allegiance lay here? Is he going soft on Quill?' So, the Ravagers have to make a decision of what they're gonna do about Yondu and I think Kraglin is a key part of that.
G/O Media may get a commission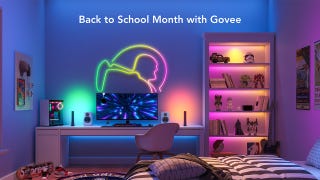 Back to School
Back to School Month with Govee Sale
---
Rogue One: A Star Wars Story
Ben Mendelsohn discusses the differences between Vader and Director Krennic:
It's fair to say Lord Vader and [Krennic] aren't friendly. Darth is very much about the Force. Krennic is force - not really down with the whole mystical thing.

He is truly a man that has made his own way up the chain through his own abilities. His weapon, for instance, is a very old type of blaster, because he's an old warrior dude. He's been put in charge of making this thing happen. And it's gonna get done!
[Empire]
---
Beauty & the Beast
Gaston attempts to woo Belle in a new picture from the film. [Empire]
---
Warcraft 2
Duncan Jones weighs in on how he'd do a sequel—less money to splash around, and less studio meddling, pretty much.
---
Game of Thrones
Watchers on the Wall has another report from filming at Los Barruecos in Spain, this time featuring images of a massive host of Lannister soldiers mobilizing—presumably either to or from their purported assault on the Tyrell seat of Highgarden, lead by Jaime Lannister.
But the Lannsiters aren't on their own, apparently—they look to be accompanied by forces lead by Randall Tarly, hinting that Sam's former family' has a larger role in the next season, which involves them betraying the Tyrells in favor of an alliance with the Lannisters.
---
Legends of Tomorrow
Maisie Richardson-Sellers says the second half of the season will explore the return of Rip Hunter, but with a bit of a twist:
He does come back, just not necessarily the Rip that we remember. That's sort of what is a big part of the second half of the season.
---
Dark Matter
Production has begun on season three. [Spoiler TV]
---
The Walking Dead
The midseason finale, "Hearts Still Beating," has been given an extended runtime, bumping its slot by an extra 25 minutes. [Comicbook.com]
---
Agents of SHIELD
Simmons' new mission is revealed in a new clip from "Deals with our Devils."
---
Supergirl
Finally, the Danvers family Thanksgiving (and Alex's coming out to her mother) is rudely interrupted by a crossover-mandated space-time portal in a clip from next week's episode. Rude.
---
Additional reporting by Gordon Jackson. Banner art by Jim Cooke.