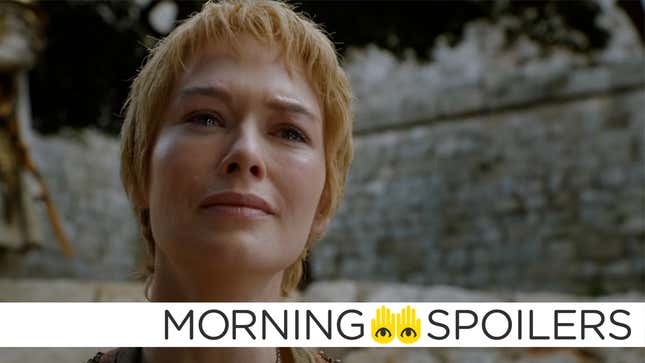 The Crow remake suffers yet another setback. Gareth Edwards is full of praise for Alan Tudyk in Rogue One. The Flash casts a Heroes alumni. Don't expect Steven Moffat to return to Doctor Who after next year. Plus, when to expect the return of iZombie, and new set pictures from The Defenders. To me, my Spoilers!

Apple's Vision Pro Seems Powerful, But Who Is It For? | Future Tech

The Crow
The ongoing saga of the reboot continues, as Relativity Media has lost the film rights. The remake will now will be produced—if it ever happens—by Samuel Hadida's Davis Films in partnership with Highland Film Group and Electric Shadow. [THR]
---
Spider-Man: Homecoming
Jacob Batalon discusses playing Ned in the film:
Ned is really an innocent, genuine, sweet kid. And so, I haven't been those things since like... I sort of just drew from my childhood when I was younger and didn't know any better. Because, you know, he's really naive in a sense. He just loves Star Wars and he's super-smart. And he just loves to play around, so I just went back to when I was a kid playing Power Rangers and Yu-Gi-Oh! and Pokémon.
---
Rogue One: A Star Wars Story
Gareth Edwards is full of praise for Alan Tudyk's performance as K-2SO:
Alan had to wear this rather silly-looking outfit with dots on it while we were filming, and he always felt like the uncool guy on the set surrounded by actors in super cool costumes. I would tell him, 'Alan, don't worry. You're going to steal every scene you're in.' And I was right. Once we put the robot overlay in, he was fantastic. He brings a lot of humor to the film.
---
Robin Hood: Origins
Taron Egerton's "gritty, revisionist" Robin Hood film iscoming March 23, 2018. [/Film]
---
Game of Thrones
New set pictures have emerged from filming at Trujillo Castle of Jamie Lannister, Bronn, and a whole army of Lannister soldiers standing guard atop the castle's ramparts. It's been recently discussed that Trujillo would stand in as both Highgarden and Casterly Rock, but it's believed these images actually come from filming scenes of the Lannisters taking Highgarden—the seat of House Tyrell—for their own. [Watchers on the Wall]
Meanwhile, British actor Tom Hopper has allegedly joined the cast. No official details were confirmed, but there's speculation he could be replacing Freddie Stroma as Dickon Tarly, who will have an increased role this season. [Watchers on the Wall]
---
The Flash
Greg Grunberg has been cast in the recurring role as Detective Tom Patterson, "a gruff, stalwart figure at Central City Police Department" dedicated to protecting the city from metahumans. [Mashable]
---
Doctor Who
Steven Moffat told Doctor Who Magazine he believes the companion should remain eternally female:

Science-fiction is notoriously male. You can tell that because everyone wears uniforms and marches around talking about rules. But Doctor Who has always felt to me, rather female. It's full of kindness and compassion and eccentricity and wisdom instead of violence. And from that point of view it is important that the main character, the Doctor's best friend, should be female.
Meanwhile, you can also expect the writer not to return to write an episode after his time as showrunner comes to an end next year:
I think as much as I hate to concede it and I'd like to have Russell write for me, this is probably it for me – once I'm done, I'm done.

I've written a hell of a lot of Doctor Who. I've written more Doctor Who than anything else, and I've written more Doctor Who than anyone else has ever written. It feels as though, in my limited time on this Earth, I really should start focusing on something else. It's not that I've lost love for the show at all, but I think it's time for Doctor Who to have something new, as well as me.
---
iZombie 
Good news! The show will return on April 4th. [Den of Geek]
---
The Defenders
Finally Superhero News has a few new set pictures from filming, including Rachael Taylor as Trish Walker.
---


Additional reporting by Gordon Jackson. Banner art by Jim Cooke.