Some guys at the Sling Community forum trolled the FCC, and pulled these details on the new Sling devices that turned up last week.
I've tried to edit that forum post for brevity, and sanity, and see there's a Slingbox streamer with coax, named "tuner", an "A/V" model with composite/s-video inputs, and a "Pro" model equipped to work with an HDTV—probably by streaming to a TV, not streaming HDTV signals out across the net. But we have nothing to bet on, until more solid news drops. More details on that last one, after the jump. (Thanks Kenneth.)

Model: SB220-100 - Called the "SlingBox Tuner" - It seems to just have Coax Inputs and Outputs (although the test configuration indicates that a remote PC was used to display what was being seen on the DVD, it would be great if it "could" also provide "RF out" when working as a client!)

Model SB200-100 - Called the "SlingBox Pro" - It seems to have HDMI, Tuner (Coax) and 3 Composite/S-Video inputs/outputs (this is the answer to the situation "I have digital or HD and want to use my SlingBox"!) This is a huge box that looks like it is twice as long as the current SlingBox! Likewise, I would be great if this box also has "client" capability!

Model SB240-100 - Called the "SlingBox A/V" - It seems to have just the composite/s-video inputs. As indicated else where this is a cost reduced tuner-less box. This is the one seen in the articles. By the way, when I first saw pictures of this "shorter fatter box" I initially thought that it must have a disk drive installed - PVR like!!!! The "A/V" portion in the name could signify something like this...
G/O Media may get a commission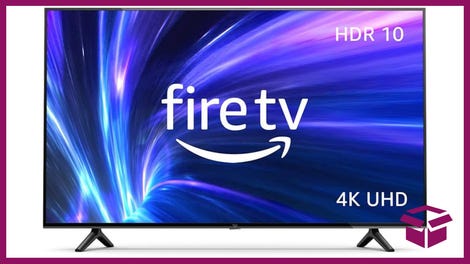 42% Off
Amazon Fire TV 50" 4K Smart TV
New Sling Devices from the FCC [Sling Community]