SpaceX's Starship hasn't left the ground yet, but the company is already envisioning the future of its massive launch vehicle carrying astronauts to Mars.

Astronomers Could Soon Get Warnings When SpaceX Satellites Threaten Their View
This week, SpaceX released a five minute video on the company's YouTube channel that portrays a future Starship mission to the Red Planet. The video begins with a wide shot of SpaceX's Starbase in Boca Chica, Texas, where a Starship rocket is awaiting launch.
Starship fires off its engines and a huge cloud of exhaust smothers the base of the rocket as it slowly lifts off. The video then pans to an overhead view of Starship making its way to orbit. Less than two minutes in, the rocket's first stage separates from the second stage and makes its way back to Earth.
The first stage tumbles its way down before it is caught by the giant chopstick arms on the rocket's launch tower, landing vertically on its launch mount. The Starship's upper stage is bound for Mars, but before it can get there, it needs to refuel.
The video shows Starship rendezvousing with a tanker for some orbital refueling on its way to Mars. Figuring out how to refuel Starship during its Martian trek represents one of the bigger challenges faced by SpaceX. One possible solution is to place an orbiting refueling tanker in low Earth orbit for Starship as a rest stop during its journey. The tanker vehicle is basically the same as Starship, save for no windows. Starship's on-orbit refilling could allow for the spacecraft to transport up to 100 tons to Mars, according to SpaceX.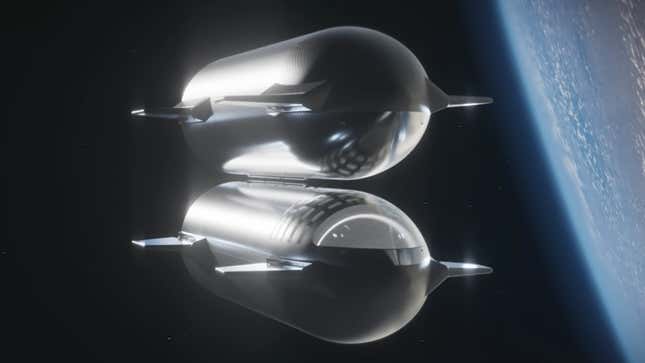 More than halfway through the video, we finally get to see Mars. The planet's signature cratered surface starts to appear as Starship approaches. But this isn't Starship's first time visiting Mars; three other rockets glimmer above the Martian horizon as a fully-developed Mars habitat sits below on the surface.
The Starship rocket lands vertically on its pad and four astronauts open the hatch to a view of a Martian city. The video sums up SpaceX's vision for the future of Mars.
But first, SpaceX needs to see its Starship rocket fly for the first time. The company is in the midst of prepping for Starship's orbital test flight, which could happen sometime next week pending a launch license from the Federal Aviation Administration.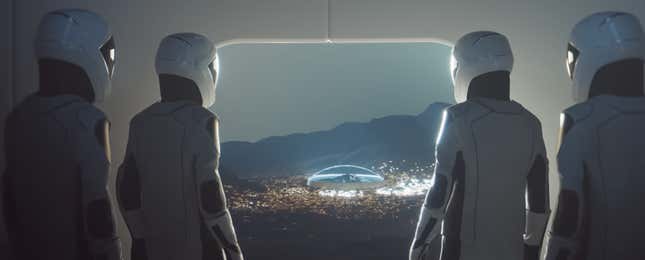 Should the test flight be successful, SpaceX wants to put Starship to work. The rocket is designed to deliver its next-generation Starlink satellites to orbit. SpaceX also has a $2.89 billion contract with NASA; the plan is to use Starship to land humans on the Moon by late 2025 as part of the space agency's Artemis 3 mission.
Once those goals are complete, perhaps we can start envisioning a possible future where Starship regularly lands on Mars.
Want to know more about Elon Musk's space venture? Check out our full coverage of SpaceX's Starship megarocket and the SpaceX Starlink internet satellite megaconstellation. And for more spaceflight in your life, follow us on Twitter and bookmark Gizmodo's dedicated Spaceflight page.