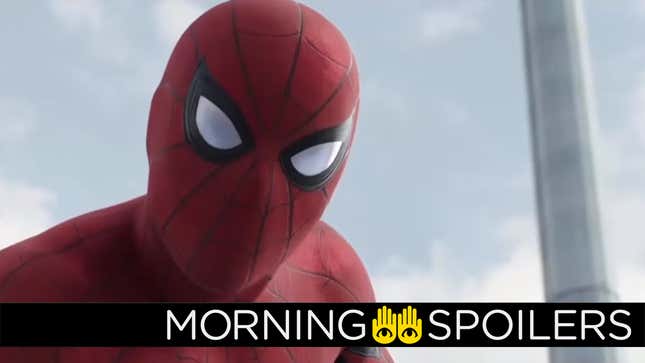 Chadwick Boseman discusses Black Panthers of the past in Black Panther. David Mazouz still thinks Gotham doesn't need Batman. Tatiana Maslany talks about the fates of the clone club on Orphan Black. Plus, what's to come on iZombie, and teases for a Wonder Woman villain. Spoilers!
Meet Microsoft's New Surface Laptops

Spider-Man: Homecoming
New set pictures of a stunt being performed for filming feature Spider-Man and an unidentified redhead swinging around, prompting speculation after the reports that Zendaya Coleman is playing Mary Jane Watson that this is our first glimpse at the character in the film. While it's possible, as the figure is unidentified it's very hard to tell, so take that speculation with some spider-sensed skepticism.
---
Robin Hood: Origins
Jamie Dornan has been cast as Will Scarlett of the Merry Men. [THR]
---
Black Panther
Chadwick Boseman discusses the film's scope—hinting that the past Black Panthers might appear in some brief capacity:
There is definitely more of his origin in Black Panther. You're going to learn about Wakanda, its culture, its traditions, the past. You can go through all the comic books and know that there's more Panthers that have existed in the past - that's origin.
[Yahoo]
---
Wonder Woman
Elena Anaya briefly teases her villainous role glimpsed in the trailer:
Well, it was a small role in this big ensemble, but it is an important character in the story. It's directed by Patty Jenkins, then there's Gal Gadot as our main lead, Chris Pine as her co-lead and I'm going to be… a big nightmare for the two of them!
---
Gotham
Young Bruce Wayne David Mazouz argues that the caped crusader is not quite needed yet in the show's monster-riddled city:
Batman can't exist until he's necessary, and he's not necessary yet. The world of Gotham has to get a lot worse, which it will. That's the show. It really is the story of how a city goes from being okay to just being an absolute mess, and there needs to be a Batman to save it.
[Collider]
---
Orphan Black
Tatiana Maslany briefly discussed the fates of her various characters with TV Guide:
They're all probably going to have different ends. Some of them might not be happy, and some of them might be ... a little tragic.
---
The Exorcist
A synopsis for the third episode, "Let 'Em In," has been released:
Kat struggles to confront the realization that her friend, Julia, is dead. Shopping for a dress to wear to Julia's memorial service, Casey is given a sexy, expensive and slightly inappropriate dress by a salesman at the store. Seeking permission to conduct an exorcism, Marcus and Tomas take footage from the Rance home to papal emissaries, only to be met with shocking news that will change Marcus' life forever.
[KSiteTV]
---
Timeless
And likewise, here's a synopsis for the second episode, "The Assassination of Abraham Lincoln."
Lucy (Abigail Spencer), Wyatt (Matt Lanter), and Rufus (Malcolm Barrett) chase terrorist Garcia Flynn (Goran Višnjic) to the night of Lincoln's assassination, where they're horrified to learn that Flynn's linked up with history's most notorious assassin, John Wilkes Booth (guest star Kelly Blatz). Putting aside a tragedy of her own, Lucy speculates that Flynn intends to send the fragile nation into chaos by making a bad thing worse, and a debate rages among the team: should they alter history if it means changing it for the better? Also starring Paterson Joseph, Sakina Jaffrey and Claudia Doumit. Guest starring Neal Bledsoe, Michael Krebs, Terry Lewis and Lucia Frangione.
[KSiteTV]
---
Arrow
Marc Guggenheim has started teasing the next season's eighth episode—Arrow's 100th overall—on Twitter:
---
Agents of SHIELD
Here's a couple more Ghost Rider-centric promos.
---
iZombie
Finally, David Anders and Malcolm Goodwin discuss the new season in some new video interviews:
---
Additional reporting by Gordon Jackson. Banner art by Jim Cooke.