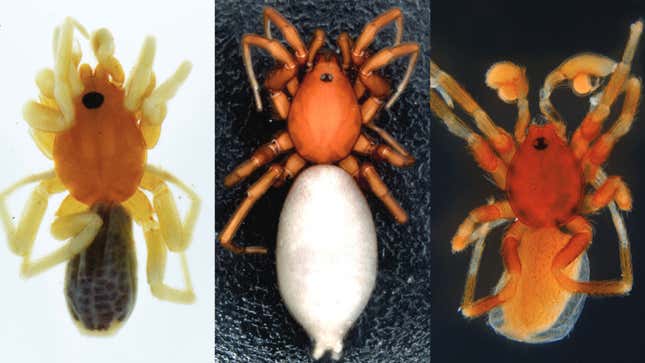 Brazilian scientists have found some new species of spiders that will hopefully live long and prosper. Researchers with the Emilio Goeldi Paraense Museum have identified the three new species and named them after some iconic characters from Star Trek.
Will We See More of Uhura's Relationship with Spock? | io9 Interview
The researchers published their findings in the European Journal of Taxonomy earlier this month. The spiders are aptly named after Kirk, Spock, and McCoy and were found across Latin America—R. kirk was found in Costa Rica, R. spock was found in Campeche, Mexico, and R. mccoy was found in Big California Sur, Mexico. Co-authors Alexander Sánchez-Ruiz and Alexandre B. Bonaldo identified both male and female specimens of R. kirk while only observing female R. spock and male R. mccoy. The researchers were inspired by Star Trek after noticing how the arachnid anatomy resembled that of spaceships seen on the show.
"They somewhat resemble Star Trek spaceships," Bonaldo said to the New York Times in an interview. "Arachnologists have a long tradition of giving interesting scientific names for new genera and species, as most of us believe it is a great opportunity to acknowledge people or draw parallels with pop culture and local customs."
The spiders belong to the Roddenberryus genus, which is named after screenwriter Gene Roddenberry, the mastermind behind the Star Trek television series. Roddenberryus is a novel genus established by Sánchez-Ruiz and Bonaldo, which includes the three Star Trek-inspired spiders as well as two additional species known as the R. sargi from Guatemala and the R. pelegrina from Cuba. These two species were previously placed in the Caponina genus.
Scientists have a long tradition of naming new species after famous characters and people, alike. In April 2022, researchers named a newly identified species of millipede after American singer-songwriter Taylor Swift, calling the specimen Nannaria swiftae. Harrison Ford of Indiana Jones fame was also honored with the gift of having a snake species named after him. Tachymenoides harrisonfordi was discovered in Peru's Otishi National Park.