This season, every NFL player will wear a motion tracking chip—and we're now getting a look at how the data these chips collect will be shown to fans in instant replays. This is the beginning of something beautiful.
Is AI Moving Too Fast? | Future Tech
Earlier this year we learned that the NFL was teaming up with a company called Zebra to install RFID chips in players' shoulder pads to track their movement on the field, a first for the sport. The data collected using Zebra's technology is immensely useful to teams—but in a surprising move, the NFL has decided to make some of that data available to fans in the form of Next Generation Stats and Replays.
Here's the bad news first: The very coolest stuff produced with Next Gen Stats will be available only to people using Microsoft products. For starters, Next Gen Replay will only be available through the NFL's Xbox One app. Later, there will be an NFL companion app for Microsoft's newly launched Windows 10 operating system. Microsoft is a huge NFL sponsor, and for this season at least, this data will be exclusive to Microsoft products. We're told there won't be anything for iPad or any Playstation 4.

The video above gives you a sense for what the replays will look like, but the NFL and NFLPA are crazy about rights so Microsoft could only share the part they built in video form. The real implementation will have player names and game video.
G/O Media may get a commission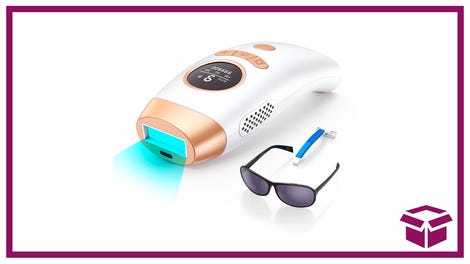 58% Off + Coupon
IPL Hair Removal Device
The basics: three to seven minutes after a particular play, the field position and vector data for every player on the field will be available in replay form. (Not every play, but you know, the ones you want to watch again.) In other words, you'll be able to view the Xs and Os version of a play with the actual speed of every player on the field, as well as some additional graphical elements to highlight specific players or data points. The actual view will look like the screenshot below, with Microsoft's graphics in the main frame, game video on the top right, and player data filling out the sidebar.

At the beginning of this season, we're only going to see a basic version of the Next Gen functionality, with information like total distance traveled, average speed, and top speed. But over time, Microsoft will start incorporating more sophisticated second-order stats, which reveal more in-depth info like when players hit the fastest top speeds on plays (check out the screenshot above). Microsoft is even suggesting the replays might zoom in on details like how far a quarterback scrambled in a game.
The whole NFL app for Xbox is really slick, letting you switch between live broadcasts, your fantasy team, team-specific channels, and more. If you're a rabid football fan and and Xbox owner, this is going to be a kick ass season for you. Hopefully more fans will get a look at this great data in the future.